March 13, 2013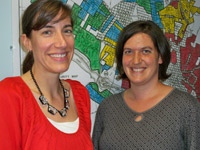 From the Directors
Mapping Civic Engagement
Sit in the front office of the Bonner Center for Civic Engagement (CCE) during a general-advising session early in the semester and one thing will become clear: students come to the work of civic engagement in different ways.
Some walk in driven by a specific interest or concern. These students often know where they want to go and possibly even what they want to do there. This spring, for example, we've seen an increase in students seeking opportunities to be mentors—spurred, in part, by the outreach and education work of our VISTA mentor program coordinator, Michael Rogers, '11.
Other students come in because they want to contribute to society and get off campus, but they don't yet know what that will look like. Still others come in because a professor required it, or a friend or student org leader recommended it. These students are often curious but a little wary: Will community engagement experiences take too much time? Where will they go? Who else will be there? 
During the eight years since the CCE's founding, we have learned that no matter why or how students make their way to our office and then into our greater community, no matter what they do there or for how long, context matters. Understanding the historical, social, political, and cultural context—even in incremental ways—of the issue and/or site with which students connect is crucial to student learning and to meaningful civic engagement. 
Through program orientations, suggested readings, our Brown Bag Discussion Series, targeted sessions on specific issues, city tours, and much more, we aim to ground students' experiences in context and support students in reflecting on their involvement and making linkages with their coursework.
Even more simply, we know that helping students understand where they are going is a first step towards piquing their interest in these contexts. For this reason, we have reoriented our website around a new, interactive mapping tool created for the CCE by our colleagues in University Communications.
Students can use the map to look for opportunities related to a particular social issue. They can link searches by choosing multiple issues, starting broad and dialing down, often in conversation with a CCE advisor, to a more specific focal point and need. As students begin to identify a specific organization with which they might want to work, the map allows us to, literally, zoom in on the neighborhood, helping us to orient students to the geography of our city.
And this is just the beginning. We have started to add issue-specific reports and research on the partner pages accessed through the new map and we will be growing this feature with the input of our partners, student leaders, and faculty during the next few months.
Whenever possible, we will highlight faculty and student research, leaning into our goal that our website, like the CCE itself, is much more than a place to get information or make a connection—it is a portal to educationally grounded civic action and inquiry.
Have relevant research to share, or an idea for other resources we might link to through our map? Email engage.richmond.edu.
Dr. Amy Howard, Executive Director
Dr. Sylvia Gale, Associate Director
Campus-Community Connections
Community-based Learning
Sophomores engage in yearlong self-discovery and community-based learning
A new Sophomore Scholars in Residence community challenges students to explore their own identities and how they can effect change in the world.

Journalism students preserve wartime stories for Veterans History Project
Students in community-based newswriting class learn interviewing skills while recording veteran stories for the Library of Congress's Veterans History Project.
Global Engagement
Amazon internship gives Guatemalan native insight into complex human rights issues
Diego Leal, '15, moved from debating human rights issues to becoming a human rights practitioner during a summer internship focused on conservation and indigenous communities in the Amazon.
Burhans Civic Fellow studies the effect of culture on health care
Get the buy-in of the village chief before promoting your health care agenda to the villagers, says Sherzel Smith, '13, of her experience working in Ghana this summer.

Community engagement gives Bonner Scholar context for economics major
Miki Doan, '14, has been involved in serving the community ever since she arrived in Richmond — but her work has taken her beyond the city limits, too.
Spotlight on Mentoring
Junior lands an internship that combines her interests in education and accounting
An advocate for education, Ayanna Adams, '14, has volunteered with UR mentorship programs, leading to an internship with Higher Achievement.
Two UR students tout the benefits of long-term mentoring
Two UR students tout the benefits of long-term mentoring for mentors and mentees alike.
VISTA corps member supports UR students in their mentoring work
As a mentor, Michael Rogers, '11, has grown intellectually and emotionally. Now he helps other Spiders grow in their mentoring work.