January 26, 2011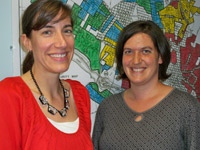 From the Directors
Faculty Engagement
Happy New Year! With the start of 2011 comes some great news: the Carnegie Foundation for the Advancement of Teaching awarded the University of Richmond its community-engagement classification, confirming the University's excellence in supporting educationally meaningful civic involvement. According to Carnegie, UR's application documented excellent alignment among mission, culture, leadership, resources, and practices that support dynamic and noteworthy community engagement. Faculty, staff, students, and community partners alike share in this wonderful acknowledgment of our collaborative community-engagement work. Well done!
A core tenet of the classification is faculty engagement, a focus of the CCE's work since our founding six years ago. Each year, the CCE supports a cohort of faculty fellows from across the University to revise or create community-based learning (CBL) courses. In order to meet faculty teaching objectives and community needs, these courses take a variety of forms, including community speakers series that expand the walls of the classroom and community-based projects where students apply classroom theories and skills to real-world problems. This year for the first time, the CCE also supported a cohort of experienced CBL faculty fellows to publish and/or disseminate scholarship based in their CBL teaching and research. Together with colleagues across the University, CCE faculty fellows are making a significant contribution to UR's curriculum. Last year alone, more than 1,100 students enrolled in 47 community-based learning courses that brought together students and faculty with local organizations.
In awarding UR its community-engagement classification, the Carnegie Foundation acknowledges this significant faculty engagement. The foundation has also identified significant barriers to faculty engagement nationwide, noting faculty rewards for roles in community engagement and community-based achievements do not always reflect the scholarship of engagement in practice at the institution. As UR takes its place among the 311 institutions nationwide that currently hold the community-engagement classification, we look forward to the University's participation in study, dialogue, and reflection to promote and reward the teaching and scholarship of engagement more fully. The next stage of UR's community-engagement work is just beginning.
Dr. Amy Howard, Executive Director
Dr. Sylvia Gale, Associate Director
Campus-Community Connections
Community-based Learning
Accounting students review internal controls for nonprofits
Accounting students bolstered their knowledge of accounting processes and gained valuable business skills when they undertook projects for local nonprofits.
Three economics students win Federal Reserve video competition
Three economics majors won a trip to New York City after their cautionary tale of credit-card debt garnered them first place in a Federal Reserve video competition.
CCE Fellows
Service, research, study abroad prepare senior for bilingual medical career
Thanks in part to a close encounter with a Peruvian parasite, John Stafford, '11, decided to pursue a career as a bilingual health-care advocate and practitioner.
Burhans Civic Fellowship guides student toward career in social work
Sarah Levinn, '11, says she couldn't believe how well her internship, funded by a David D. Burhans Civic Fellowship administered by the Bonner Center for Civic Engagement, at Richmond's First Freedom Center aligned with her major and interests.
Collaborative summer research gives student a chance to interview city's leaders
A summer research grant gave Lucas Hakkenberg, '12, an opportunity to interview some of Richmond's top power brokers. "It was fascinating to get such a diverse view of the city," he says.
Student uses social marketing to improve garbage collection in Ecuadorian community
Mary Maier, '11, spent the summer researching garbage disposal practices in an Ecuadorian community, drawing on the concept of social marketing to involve community members in developing a new, successful solution for trash collection.
Law student's research may influence change in Va. adoption-record law
Through a civic engagement research fellowship, law student Matthew Morris researched the history and effects of Virginia's adoption records law. His findings may influence a change to the law during next year's General Assembly session.