August 30, 2010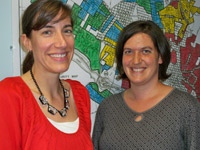 From the Directors

Engaged Partnership
Summer is a quiet time on the University of Richmond's campus. But for the staff at the Bonner Center for Civic Engagement (CCE) and other offices on campus, it is a season of critical activity. While our students pursue their interests and passions through internships, travel, jobs, and civic- and research-fellowship placements close to home and far afield, the CCE staff continues our work with community partners across the Richmond region.
Our belief in the value of sustained, mutually beneficial partnership is at the heart of each and every CCE program. Partnership is not a one-way street. It is about forging connections that are educationally meaningful for our faculty and students while truly helping to build our community partners' organizational capacity.
In the six years since the CCE's founding, we have learned that our partnerships work best when they use the most effective resources of the University to address the needs identified by our community partners themselves. This means that our partnerships are organic in that they are crafted and re-crafted over time to keep working towards dynamic, mutual goals; they are layered, often connecting multiple departments at the University with the same community partner in order to meet varying organizational goals on both sides; and they are reciprocal, founded in collaborative goal setting and cultivated through consistent contact and listening on both sides.
This is the ideal that guides us when we help to connect UR faculty with organizations and community leaders whose work intersects with our faculty's teaching and research interests and when we establish connections with local nonprofits that may work with UR students through community-based learning classes. And it is certainly why we check in regularly with the 30-plus organizations that incorporate UR students into the fabric of their mission each semester through the CCE's Bonner Scholars Program and through our issue- and neighborhood-based volunteer programs.
All of this takes time, both our time and our partners' time. From face-to-face conversations with partners during the summer and in regular check-ins throughout the year, we connect, communicate, review, revise, and reflect together. We are happy to do it. It's what engaged partnership is all about.
Dr. Amy Howard, Executive Director
Dr. Sylvia Gale, Associate Director
Campus-Community Connections
Class of 2010: What They're Doing Now