August 30, 2011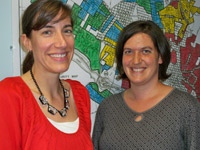 From the Directors
Defining Civic Engagement
Here at the CCE we are often called upon to define civic engagement. It is not hard to come up with a list of activities that seem to fit under that umbrella: voting, researching, debating social issues, volunteering, attending town hall and city council meetings, and participating in student government, to name a few. UR students, faculty, and staff engage in these ways on a regular basis.
But still, what is civic engagement? We resist defining civic engagement as a particular outcome or a specific set of civic-minded activities. Instead, we affirm civic engagement as a process--an intentional, educationally grounded, multi-layered, and multiply-scaled process that depends on sustained, mutually beneficial partnerships.
That's a lot of jargon. At the core, it means that what binds a diverse array of activities under the UR civic-engagement tent is simple: relationships. These attentive, ongoing relationships are fluid, organic, reciprocal, and responsive, complicating a textbook definition of civic engagement, yet contributing to a distinct and cumulative kind of impact.
Take, for example, the six-year partnership between the CCE and the city of Richmond Hispanic Liaison Office (HLO).The latest census data reveal that the number of Hispanics in Virginia grew from less than five percent in 2000 to nearly eight percent in 2010. These numbers are much higher in the Richmond region.
The HLO provides information and assistance related to city services and community resources to this growing population. In the past year, four Bonner Scholars assisted with program support in the office and worked with HLO clients on a weekly basis. Simultaneously, students in two UR community-based learning classes, Spanish in the Community and Business Statistics, helped to meet translation and data-analysis needs of the organization, tying these rich experiences back to their coursework.
HLO manager Tanya Gonzalez has served on the CCE advisory board since its inception. She has also shared her wealth of knowledge as a guest instructor in the Roadmap to Success program.
For example, for two years Tanya and the HLO staff have helped craft interactive site visits as part of the Roadmap for Sophomores program, in which small teams of students visit partner organizations to jump-start a partner-requested project that will then be turned over to a new team of volunteers to complete.
Tanya also participated in this year's inaugural Roadmap for Juniors program: a three-day, theme-based experiential-learning class team taught by UR faculty and community practitioners. During this first year, Roadmap for Juniors focused on issues affecting refugees and immigrants in Richmond.
Alone, each of those examples is certainly an act of civic engagement. Together, though, they illustrate the power of ongoing, sustained relationships. The strength of the relationship creates numerous ways for students to learn, connect, and build capacity for local organizations and for our partners to mentor, educate, and move their organizations forward. New ideas, projects, and experiences are possible because of the trust and accountability born of a strong, mutually beneficial partnership.
The CCE's role in this dynamic landscape is to convene, coordinate, cultivate, and contextualize the deep and intentional relationships upon which UR's multi-layered engagement is built. We are here to work with students, faculty, and staff to connect our intellectual and human capital to the needs of our off-campus partners as we grow, sustain, and deepen those relationships. That is the UR brand of civic engagement. And yes, sometimes it defies easy definition.
Dr. Amy Howard, Executive Director
Dr. Sylvia Gale, Associate Director
Campus-Community Connections
Community-based Learning
Students explore the city's roots along the James River
In Geography of the James River Watershed, Todd Lookingbill is giving students a firsthand look at how the river impacts Richmond residents.
Interaction with children informs students' understanding of children's mental health
Dr. Catherine Bagwell and Dr. Rick Mayes created an innovative, rigorous course based in part on the premise that their students could learn much from children.
Fellowships
Fellowship will jump-start student's Foreign Service career
El Paso native Abi Olvera decided to transfer to Richmond to be closer to Washington and to study international affairs. A year later, she is one of the U.S. Department of State's top prospects for a future career in the Foreign Service.
Civic fellow explores leadership in times of crisis through internship with American Red Cross
From national television interviews on a fatal bus crash to articles on finding and reconnecting refugees, Burhans civic fellow Nikki Cannavo is using her communication skills to tell the American Red Cross story of leadership in times of crisis.
Bonner Scholar uses fitness, nutrition and research to combat childhood obesity
Tenaj Ferguson, '11, thinks a child's ability to name the color of a strawberry may be linked to that child's risk of becoming obese.