October 10, 2014
From the Director
The fall semester kicked off strong this year with the arrival of the Class of 2018, the most academically accomplished and diverse first year class to ever enter Richmond.
Representing 44 U.S. States and territories and 29 countries, nine percent of these students hail from outside the United States and 83% are from states other than Virginia. Fourteen percent of the class are first-generation college students and four percent arrived at Richmond benefitting from the Richmond's Promise to Virginia financial aid program, which provides full-time tuition and room and board to qualified applicants. No matter their differences, all of these students are now joined together as members of the Richmond family.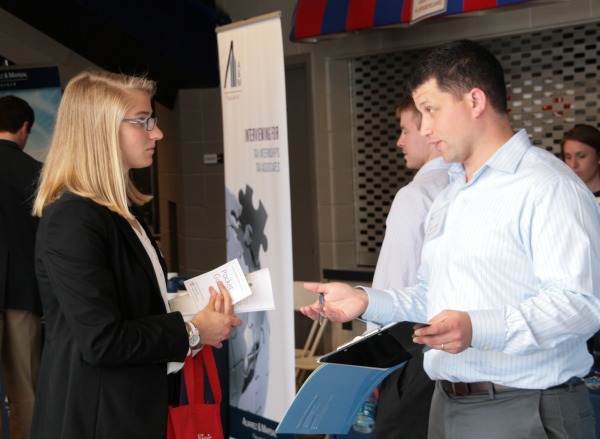 A number of exciting events for students and alumni have already taken place this fall. More than 50 organizations in industries such as accounting, consulting, finance, marketing and sales, participated in the 2014 Fall Career Expo, held September 16 at the Robins Center. In attendance were over 300 students from all majors and class years, who networked with employers and alumni, as well as learned about the many opportunities available to them. A special thanks to all of the employers who attended. The Office of Alumni and Career Services is happy to assist employers with any follow-up actions from the expo, such as scheduling interviews with potential candidates. We are looking forward to our additional expos this year and encourage you to review the list at the bottom of this newsletter for more.
Students interested in finance and consulting will be hitting the road this fall break, October 13-14, to visit employer organizations and expand their professional networks for greater career opportunities. Through on site presentations and networking, 25-30 students on the Spiders on Wall Street Road Trip to New York City will have a chance to deepen their knowledge of financial career paths and the recruitment process. A little closer to home, students on the Spiders in Consulting Road Trip will gain insight into the consulting profession through structured visits to firms in the metropolitan Washington, D.C. area. Our sincere thanks go to the many organizations that make these road trips possible.
Special thanks also go to the tireless members of the Career Services Advisory Council, who provide our office guidance on best practices, ethics, and important market trends. These individuals, who come from a wide range of industries, are invaluable in assisting with our programming and in supporting our students through their recruiting and networking efforts.

Lastly, Westhampton College is celebrating a hundred years of producing women scholars and leaders. Throughout this year, they have marked their centennial by celebrating contributions from those who built Westhampton College since it opened its doors in 1914. Please take a moment to view the "Westhampton Women: A Centennial" video below.
We at the Office of Alumni and Career Services look forward to another rewarding year working with you and assisting with your efforts to Hire Spiders! 
Sincerely,


Megan Wallace
Director, Business Development
Office of Alumni and Career Services
University of Richmond
Recruitment Events & Registration Information:

Science & Health Expo - Registration Now Open!
Friday, November 14, 2014 | 2 - 4 p.m. | Gottwald Science Center Atrium
This event allows students to learn about careers in science and health while networking with administrative, clinical, policy and research professionals. Learn more and register online.
Spring Spider Career Expo - Registration Coming Soon!
Monday, February 2, 2015 | 12:30 - 4:30 p.m. | Jepson Alumni Center
This event allows students and alumni to connect with opportunities across a variety of career paths. Learn more and register online.
Government & Nonprofit Expo - Employer Registration Now Open!
Friday, February 13, 2015 | 10 a.m. - 3 p.m. | Georgetown University Hotel and Conference Center Ballroom
This event allows students to network with top employers in government and nonprofit fields, who are recruiting for internships and full-time jobs. Learn more and register online.
2014-2015 On-Campus and Remote Interview Program
2015 Spring Semester Interview start date: Monday, January 26, 2015

To request your preferred interview dates, whether on campus, or via Skype, phone, or videoconference, please log into SpiderConnect. Please note that you can request Information Session dates when you request your preferred interview dates.
For more information, please contact Sarah Kuhn at skuhn@richmond.edu, or phone (804) 289-8139.
Student Preparation and Success