A Newsletter for Alumni and Friends of the Jepson School

October 4, 2013

From the Dean
The semester is in full swing. We will soon admit our newest class, students are taking electives such as Leadership Breakthroughs, Leadership in a Diverse Society, and Social Movements, and our exciting new Jepson Leadership Forum, "Culture Shock: The Art of Leading Society," began on a high note with music historian Peter Guralnick. Our John Marshall International Center for the Study of Statesmanship is getting ready to begin its sixth year of programming. And our newest faculty member, anthropologist Christopher von Rueden, is adding yet another perspective through which our students can study leadership.    
Last year, we were able to celebrate 20 wonderful years. I'm grateful to you—our alumni, students, and friends—for celebrating with us and making it a historic year in terms of events, financial contributions, and student and alumni engagement. Several students will benefit this summer from the fundraising efforts of our alumni as they conduct summer research or land internships.

With your help, we plan to keep the momentum going and continue to make a difference in the lives of our students, our community, and beyond.


Sandra J. Peart
Dean, Jepson School of Leadership Studies
University of Richmond
Alumni News
Jepson alumni lead workshops and raise money to support student research and internships
To celebrate the 20th anniversary of the Jepson School, alumni led workshops for students and raised money to support internships and student research.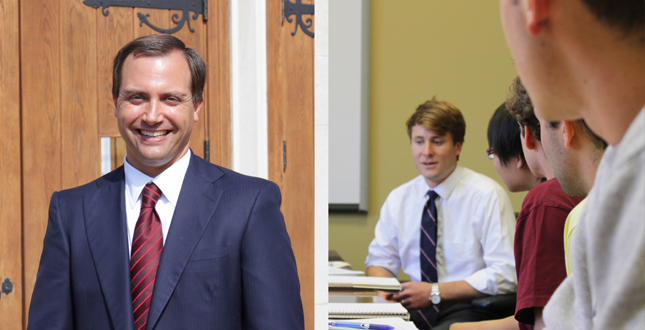 Matt Knisely, '94
, (left) managing director, Capital Transactions at Shorenstein, spoke to students last month as part of University of Richmond Career Services' Spider in the Spotlight Series.
Ben Wallerstein, '99
, (right) senior vice president and counsel at Dutko Worldwide, led a discussion on public policy and education in Dean Peart's Leadership and Economic Policy class.