Annual Report
August 20, 2012
Learning, Innovation, Connections, and Discovery
At the Boatwright Memorial Library, the Parsons Music Library and the Media Resource Center, we engage in new, different and exciting roles – and defy old stereotypes. We draw on our experience and expertise to create collections, experiment with new technologies, and implement services and programs in support of the curriculum and the furthering of the Richmond Promise. This annual report highlights our accomplishments during 2011-2012. Each endeavor described here grows from the combined effort and talent of all library staff. The spirit of collaboration and commitment to service make the libraries the heart of the University of Richmond. Our diverse community of users and our dedicated staff are the heart of the libraries.

Kevin Butterfield
University Librarian

Supporting Teaching, Learning and Scholarship

How do libraries remain relevant to today's students and faculty?  For Boatwright Library, the answer is a combination of old and new.  Changes with both digital and print information provide opportunities to experiment with new ways of accessing collections and providing services that promote learning, innovation, connections and discovery.  Librarians continue to engage with students and faculty through the
First Year Seminar Library Labs
as well as upper-level courses, by introducing students to deeper layers of information. Librarians taught 317 library instruction sessions for 3,744 students in over 20 academic departments.   Research appointments, instant messaging and e-mail continue to be effective ways to support student, faculty and staff information inquiries. Librarians continued to work closely with faculty to design effective library research assignments and to select print, electronic and media resources that support the curriculum.


The
Music Library
relocated Dance materials from Boatwright Library to the Music collection in the Modlin Center for the Arts, in order to assist students and faculty with their research and performances. The
Media Resource Center
created the Film Studies/World Cinema area to provide study and discussion space for the new
Film Studies Program
. The space also highlights the Media Resource Center's long-standing commitment to international film study and support on campus.
A new
Faculty Publications Display
debuted in the first floor Research and Collaborative Area, highlighting faculty-authored books and articles for the entire campus to peruse. 
Podcast interviews
with faculty authors and student researchers continue to be featured on the library's website, allowing the campus community to learn about current research interests.
Interlibrary Loan Services
received high ratings in a Spring 2012 user survey. Library staff members are using the feedback to make further improvements with this essential service. Boatwright borrowed 3,585 interlibrary loan items in the past year and lent 6,756 items to other libraries in the United States and abroad.  Over 3,000 items were delivered directly to faculty and staff offices through our document delivery service.
Digital Library Services
provided imaging support for various faculty research projects in the Sociology, Anthropology and History departments. The department worked closely with the
Digital Scholarship Lab
by providing data consultation on the Lab's
Visualizing Emancipation
project.
Collaborating Campus-wide and Beyond
Integrating the library in campus and community life is part of our mission. During 2011-2012, Boatwright Library co-sponsored and supported the In Common with Boatwright Library Program with the Office of Common Ground, One Book/One Campus Program, Hispanic Heritage Month, and Black History Month.  Special topic LIBGUIDES continue to promote opportunities for further exploration and study on pertinent campus interests, such as Faculty Work-Life Balance, Recreational Reading, One Book, One Campus and Mobile Applications.  Throughout the year, special tours are offered for area high school students, Osher Institute members, alumni and other community users.

The library serves as an intersection of ideas and interests on campus.  Library staff members created an energetic "Cultural Connections" series this past year. A diverse mix of faculty and staff members contributed to weekly discussions based on a unique theme that provided the opportunity for a conversation on how various aspects of the topic were related.

Special exhibits offer the opportunity to highlight interests within the libraries, but also throughout the campus.  Many students approached the library with their own ideas of exhibits. Exhibit highlights included Caribbean Literature, World AIDS Day, Westhampton Lake, A History of Boatwright Library, and UR Songs.

Campus Celebrity posters were created in the past year to advertise the library as a place to pursue knowledge and a love of reading.  Students enjoyed recognizing a wide variety of faculty and staff from across campus among the stacks in Boatwright.
The highly successful International Film Series, co-sponsored by the Media Resource Center and International Education, continues to attract over 5,000 viewers from the campus and the Richmond area.   The library is an active member of the Richmond Academic Library Consortium (RALC) which provides resource-sharing and cooperation with Richmond area academic libraries.


Building Diverse and Inclusive Collections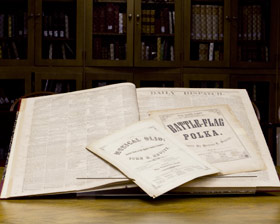 The library serves as the interdisciplinary crossroads of the university with our varied collections  - electronic, print, media and archival. Students, staff and faculty can use the collections and the specialized staff of the library to learn about any topic that interests them.  In the past year, users performed over 600,000 searches in research databases and 397,000 searches in the library catalog.

The library also launched experiments with different ways of reading and accessing materials. Users are encouraged to assist us in selecting materials through our new demand-driven selections in the library catalog. Electronic book titles appear in our catalog, but are not purchased until a reader views, copies, or downloads a certain amount of the book.  Downloadable audiobooks are available in the library's catalog and the Media Resource Center experimented with providing feature film screening for several courses in the past year. Most of the library's existing and growing collection of ebooks are now able to be downloaded and read on most devices. Kindles continue to circulate and feature a variety of books, including the One Book, One Campus selection as well as other titles for various reading groups on campus. 

Progress continued on several large-scale digital projects, including the Sutton Collection of International Military Tribunal for the Far East papers, the International Criminal Court's Legal Tools Database, and revisions to Richmond Daily Dispatch collection. An updated version of the Collegian archive was completed as well as the transcription of Dr. Frederic Boatwright's correspondence in the University Archives.

2011-2012 collection highlights of new online resources include: America's News, Biological Abstracts backfile, Business Insights: Global, Deal Pipeline, Encyclopædia of Islam, Freedonia Focus Industry Market Research Reports, Global Financial Data, GREENR, JSTOR A&S IX, X, & XI, Mental Measurements Yearbook with Tests in Print, New Pauly Online, Oxford Islamic Studies Online, Political Science Complete, PrivCo, PROMT, Research Starters – Sociology, RIPM , and Voter Turnout.
Contributing to the Student Experience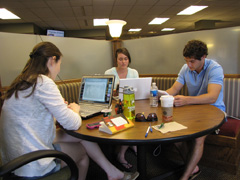 "Boatwright Library as Place" continues to fulfill a unique role on campus.  Students visit Boatwright for quiet study, group projects, seeking research assistance, completing assignments and to work alongside classmates who are engaged in similar activities.

The library's ethnographic team collaborated with Dr. Jan French, Associate Professor of Anthropology, to design a field methods research study of student use in the library.  Their findings, along with various library surveys, contributed to the 2012 summer renovation planning for the library. Users made 598,428 visits to Boatwright and Parsons Music Library in the past year, with an average daily attendance of 1,639.  Hours were expanded on Basement Levels 1 and 2 during exam week, offering more space for students to prepare and study.

In addition to supporting the First Year Seminars, librarians offer personal research appointments to students, provide "personal librarian trading cards" to each freshman student in September, support upper-level courses, and offer a myriad of services and assistance through our service desks in Boatwright , Media Resource Center , Gottwald Science Center,and Parsons Music Library . Nearly 100 student assistants work alongside library staff members in offering services, particularly during late night evening hours and weekend hours.
Library Staff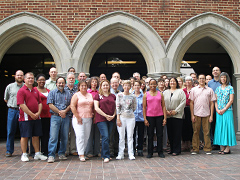 The greatest strength of the Boatwright and Parsons Music Libraries is the dedicated and excellent staff.   We are committed to supporting students, staff and faculty by providing high-quality resources and services that will enhance their experience at the University of Richmond. Kevin Butterfield was named the new University Librarian in April of 2012 and his leadership has been instrumental in planning and executing the summer library renovations.  Other new staff include Birong Ho, Head of Systems; Lynda Kachurek, Head, Rare Books and Special Collections and Katherine Hoffman, Customer Service Associate. Staff members are keenly interested in continuing education and participated in over 50 conferences or workshops in the past year.   The library places a great emphasis on staff development, both internally and externally. Library supervisors joined their colleagues in Information Services to complete the university's Supervisory Training Series. Many librarians and staff members offer their experience and knowledge beyond their roles in the library by teaching in First Year Seminars, School of Continuing Studies courses, serving on university committees and engaging in professional association activities.