Annual Report

October 21, 2011
Learning, Innovation, Connections, and Discovery
At the Boatwright Memorial Library, the Parsons Music Library and the Media Resource Center, we engage in new, different and exciting roles – and defy old stereotypes. We draw on our experience and expertise to create collections, experiment with new technologies, and implement services and programs in support of the curriculum and the furthering of the Richmond Promise. This annual report highlights our accomplishments during 2010-2011. Each endeavor described here grows from the combined effort and talent of all library staff. The spirit of collaboration and commitment to service make the libraries the heart of the University of Richmond. Our diverse community of users and our dedicated staff are the heart of the libraries.
Kevin Butterfield
Interim University Librarian
Supporting Teaching, Learning and Scholarship
During the 2010 – 2011 academic year, liaison librarians worked with faculty to launch the new First Year Seminars. With information literacy as one of the five major goals of the First Year Seminar curriculum, librarians taught 165 "library labs", introducing library and information research skills for first year students in the context of their chosen seminars.  In addition to the First Year Seminars, liaison librarians taught 174 library instruction sessions for nearly 3,000 students in over 15 academic departments.   Research appointments, instant messaging and e-mail continue to be effective ways to support student, faculty and staff information inquiries. Librarians continued to work closely with faculty to design effective library research assignments and to select print, electronic and media resources that support the curriculum.
Interlibrary loan and Document Delivery services
are a highly-rated service by library users, particularly faculty members, according to library surveys and written comments. Boatwright borrowed 4,270 interlibrary loan items in the past year and lent nearly 8,000 items to other libraries in the United States and abroad. Over 3,800 items were delivered directly to faculty and staff offices through our document delivery service.
Digital Production Services
scanned 389 articles from the library's print collection for electronic document delivery.
Collaborating Campus-wide and Beyond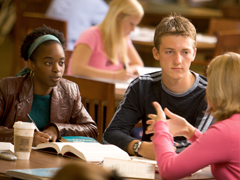 The library serves as a cultural, social and scholarly center for the campus and for its many community users. Seeking collaborations on campus and in the Richmond community are a priority for all library staff. Librarians respond to interests on campus by creating special online resource guides, such as the One Book, One Campus selection, Half the Sky: Turning Oppression Into Opportunity for Women Worldwide and the Rural Virginia Market/Local Foods benefit. Boatwright Library co-sponsored the In Common with Boatwright Library Program,One Book/One Campus Program, Hispanic Heritage Month, Black History Month, and Women's History Month. Librarians and staff supported these efforts by planning programs, serving on committees and providing library displays. Throughout the year, special tours are offered for alumni, area high school students and other community users. The highly successful International Film Series, co-sponsored by the Media Resource Center and International Education, attracted over 5,000 viewers from the campus and the Richmond area. Bibliographic and Digital Services collaborated with the Virginia Baptist Historical Society and University Archives to create several exhibits related to university history. Digital Library Services worked closely with the Digital Scholarship Lab, Web Development and University Communications to produce the Secession: Virginia and the Crisis of Union website. This project brings a digitized version of the proceedings of Virginia's secession convention of 1861 alongside a wealth of contextual information, including timelines, maps, political and demographic data, and provides tools that allow users to link them together. In addition, Digital Initiatives and the Law Library expanded the scope and potential impact of the Tokyo Trial digitization project by partnering with the International Criminal Court's Legal Tools Database project, which aims to provide legal practitioners worldwide with free access to primary source documentation concerning international criminal law.
Building Diverse and Inclusive Collections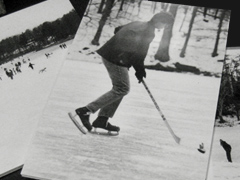 Several archival library exhibits were hugely successful in the past year. "UR Football Comes Home" conveyed the history of University of Richmond football and celebrated the opening of the new football stadium on campus. "Richmond College in 1861" featured artifacts and materials from the class of 1861, when Richmond College suspended operations during the Civil War. This exhibit also honored Black History Month and the ongoing Sesquicentennial of Civil War events in Richmond. The Media Resource Center provided ongoing, smaller exhibits featuring the unique DVD titles in the collection.
In connection with university's strategic plan, The Richmond Promise, the library serves as the interdisciplinary crossroads of the university with our varied collections - electronic, print, media and archival. Our collections represent a wide range of opinions, ideas and thoughts and students, staff and faculty can use the collections and the specialized staff of the library to learn about any topic that interests them. In the past year, users accessed electronic resources in over 280 full-text databases and checked out over 105,000 items. Over 520,000 virtual visits were made to the library's website.
Library staff members continue to explore new ways of providing services with electronic devices, such as Kindles, iPads and cellphones. Users have responded positively to working with these new technologies and initial pilot projects have provided valuable feedback on how they can be used in the educational setting.
2010-2011 additions to the collections include: 19th Century British Pamphlets Collection (JSTOR);19th Century UK Periodicals; Accounting Research Manager; American Firms Operating in Foreign Countries; American Founding Era (Complete Collection); American History in Video; Contemporary Middle East: A Documentary History; Criminal Justice Abstracts with Full Text; European Views of the Americas: 1493-1750; Foreign Broadcast Information Service (FBIS) Daily Reports (Complete Collection); GreenFILE; In the First Person; Kiss, Bow, or Shake Hands; Medici.tv; MedicLatina; Patrologia Latina; Political Science Complete; Salem Literature (Masterplots Guide to Literature); Witchcraft in Europe and America; World Scholar: Latin America and the Caribbean.
Contributing to the Student Experience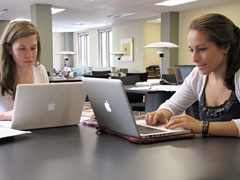 "Boatwright Library as Place" continues to fulfill a unique role on campus. Students visit Boatwright for quiet study, group projects, seeking research assistance, completing assignments and to work alongside classmates who are engaged in similar activities. Students often mention that spending time at Boatwright motivates them to study harder. A recent survey respondent commented positively about the "overall atmosphere in the library – the comfy chairs, a quiet space to study and the availability of services." Users made 557,349 visits to Boatwright in the past year, with an average daily attendance of 1,526.
The Library Assessment Committee gained a great deal of knowledge about user behavior and the library building through surveys, focus groups and observation studies in the past year.  In response to survey comments, the library provided additional silent study space on the second floor, established three types of study zones in the library to accommodate quiet and group study, installed new front doors for easier access to the building, improved public computer start-up time and placed a snack machine in the building for 24/7 access.
In addition to supporting students through classroom instruction, librarians offered personal research appointments to students, assigned a "personal librarian" for each freshman student, and offered a myriad of services and assistance to students through our service desks in Boatwright, Media Resource Center, Gottwald Science Center, and Parsons Music Library. Nearly 100 student assistants work alongside library staff members in offering services, particularly during evening hours and weekend hours.
Library Staff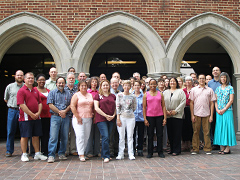 The greatest strength of the Boatwright and Parsons Music Libraries is the dedicated and excellent staff. New technologies and ways of working in libraries change continuously and our staff responds positively and enthusiastically to these new challenges. Examples include experimentations with e-book devices, such as iPads and Kindles; developing digital documents; using tutorial software for library instruction; and revising media checkout policies for users. Staff members are keenly interested in continuing education and participated in nearly 100 conferences or workshops in the past year. The library's staff development committee offered 8 in-house sessions in the past year, with an average attendance of 15. Many librarians offer their experience and knowledge beyond their roles in the library by teaching in First Year Seminars, School of Continuing Studies courses, coordinating academic programs, serving on university committees, and participating in professional associations. New staff members in 2010-2011 include Bianca Spurlock, Administrative Coordinator, and Cassandra Taylor-Anderson, Customer Service Supervisor. A search committee and search firm is in the process of selecting a new University Librarian.