Annual Report
November 12, 2010
Learning, Innovation, Connections, and Discovery
Each year brings new technologies, new information resources, and curricular changes. All of these present challenges and opportunities to Boatwright Memorial Library. The library's staff draws on its experience and expertise in various specialties to select the best resources for the collections, to experiment with new technologies and implement the most promising, and to plan services and programs to support the curriculum. These are just some of the ways the library works day in and day out to carry out its mission to "empower University of Richmond community members to excel in their academic, intellectual and individual pursuits by providing diverse information resources, personalized services, and creative learning spaces." This annual report highlights the library's accomplishments during 2009 - 10. Every accomplishment is the product of the combined effort and talent of multiple library staff members. Their spirit of collaboration and their commitment to service make Boatwright Library a very successful provider of instruction, collections, and services to the University of Richmond community.
Jim Rettig
University Librarian, 1998 - 2011
Supporting Teaching, Learning and Scholarship
Boatwright Library provides resources and services to promote learning, innovation, connections and discovery. Our liaison librarian services encourage faculty to use library resources to teach critical thinking and research skills for students. In the past year, liaison librarians taught 331 library instruction sessions for 5,839 students in over 15 academic departments. Librarians work closely with faculty to design effective library research assignments and to select print, electronic and media resources that support the curriculum. Information literacy plays an important role in the new First Year Seminars, and librarians collaborate with faculty to create meaningful introductions to the library and information resources for each first year student.
Interlibrary loan and Document Delivery services are extremely popular and highly valued among faculty members at the university. Boatwright borrowed 4,898 interlibrary loan items in the past year and lent over 8,000 items to other libraries in the United States and abroad. Over 3,000 items were delivered directly to faculty and staff offices through our document delivery service. Digital Library Services images materials for interlibrary loan, document delivery online collections, electronic reserves, and faculty projects and publications. Over 75,000 pages and items were scanned in the past year.
Collaborating Campus-wide and Beyond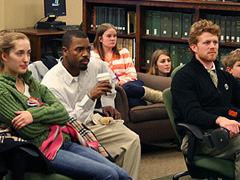 The library serves as a cultural, social and scholarly center for the campus and for its many community users. At the same time, we reach out beyond the library's walls to seek collaborations and build connections with others on campus and in the greater Richmond area. During 2009-2010, Boatwright Library co-sponsored and supported the In Common with Boatwright Library Program, One Book/One Campus Program, Hispanic Heritage Month, Black History Month, Women's History Month and Earth Day. Librarians have responded to interests on campus, such as the Haiti Earthquake and the Rural Virginia Market benefit, by creating special LIBGUIDEs with quality resources for further education. Throughout the year, special tours are offered for area high school students and other community users. We work frequently with the Center for Civic Engagement on special school tours and instruction sessions. The highly successful International Film Series, co-sponsored by the Media Resource Center and International Education, attracted over 5,000 viewers from the campus and the Richmond area. Digital Library Services  collaborated with the Virginia Historical Society to digitize the society's collection of Civil War Broadsides and sheet music. Boatwright Library is a member of the Richmond Academic Library Consortium (RALC) and provides borrowing services for all students, staff and faculty who are connected to a RALC institution.
Building Diverse and Inclusive Collections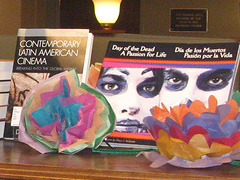 The library plays a major role in creating both a physical and virtual space where all subjects and knowledge intersect. We serve as the interdisciplinary crossroads of the university with our varied collections – electronic, print, media and archival. Our collections represent a wide range of opinions, ideas and thoughts to support the curricula, in addition to all schools, departments and programs on campus. Students, staff and faculty can use the collections and the specialized staff of the library to learn about any topic that interests them. In the past year, users accessed electronic resources in over 250 full-text databases and checked out over 101,000 items. 2009-2010 collection highlights include: Contemporary Middle East, Dance in Video, Oxford Foreign Language Dictionaries, Classical Music Library, African American Newspapers, 1827-1998, Virginia Screenwriters Forum Screen Plays.
Contributing to the Student Experience
"Boatwright Library as Place" continues to fulfill a unique role on campus. Students visit Boatwright for quiet study, group projects, seeking research assistance, completing assignments and to work alongside classmates who are engaged in similar activities. Students often mention that spending time at Boatwright motivates them to study harder. A recent survey respondent commented that "the library is great and I love studying and socializing here….I will miss it when I leave the university." Users made 596,414 visits to Boatwright in the past year, with an average daily attendance of 1,634.
In addition to supporting the First Year Seminars, librarians offer personal research appointments to students, provide "personal librarian letters" to each freshman student in September, support upper-level courses, and offer a myriad of services and assistance through our service desks in Boatwright, Media Resource Center, Gottwald Science Center, and Parsons Music Library. Nearly 100 student assistants work alongside library staff members in offering services, particularly during late night evening hours and weekend hours.
Library Staff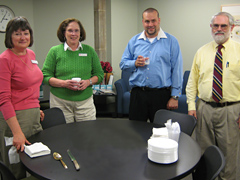 The greatest strength of the Boatwright and Parsons Music Libraries is the dedicated and excellent staff. New technologies and ways of working in libraries change continuously and our staff responds positively and enthusiastically to these new challenges. Examples include: experimentations with a variety of electronic books; learning new software programs to enhance user discovery of collections; and implementing revised checkout and renewal policies in response to user requests. Staff members are keenly interested in continuing education and participated in 115 conferences or workshops in the past year. Many librarians offer their experience and knowledge beyond their roles in the library by teaching in First Year Seminars, School of Continuing Studies courses, coordinating academic programs, serving on university committees, etc.