News and Events at Boatwright Library
November 13, 2015
Sail Away: New Digital Exhibit
Sail Away is a new digital exhibit released in October that highlights the mid-nineteenth century ship's journal located in the Galvin Rare Book Room. The library knows very little about the history of the journal or the information held within its pages. Thus far, we have noted the names of three vessels chronicled in the journal, as well as the appearance of an individual's signature: Vernon Guyon Locke, who appears to have been a pirate during the Civil War.
Built with Omeka, Sail Away displays a high-resolution photograph of each journal page, along with a tool, Scripto, which allows for crowd-sourced transcription. Our hope is that community members with interest and expertise in whaling, maritime history, handwriting, and more will help us reveal the story of the journal through their transcriptions. Pages available for transcription can be viewed sequentially, or by browsing to the vessel of interest.
In addition to page images, the digital exhibit provides an interactive map created with CartoDB, which details the voyages of the first ship written about in the ship's journal. The voyages can be explored through the daily, individual journal entries, or through an almost two-minute video of the Gem of Beverly's travels. There is also an interactive flipbook that can be viewed for a virtual, page-turning experience of the journal.
We invite you to embark with us on this intriguing voyage of discovery at sailaway.richmond.edu.
-Angie White, Digital Initiatives Librarian

October Frost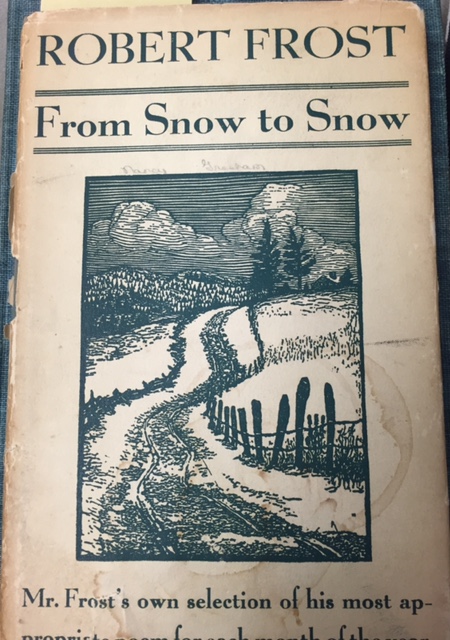 In his 1936 volume of poems, From Snow to Snow, Robert Frost chose one of his most moving and enduring poems for October—The Road Not Taken. 
            Two roads diverged in a yellow wood,
            And sorry I could not travel both
            And be one traveler, long I stood
            And looked down one as far as I could
            To where it bent in the undergrowth;
Frost (1874-1963) was one of the most celebrated poets in America.  He was an author of searching and sometimes dark meditations on universal themes.  He was distinctly modern in his use of language, psychological complexity and his use of the ambiguous and ironic.  He was the United States Poet Laureate invited to read a poem at John F. Kennedy's inauguration.  Countless awards, including four Pulitzer Prizes, followed him through the years.  One critic called him the "American Bard".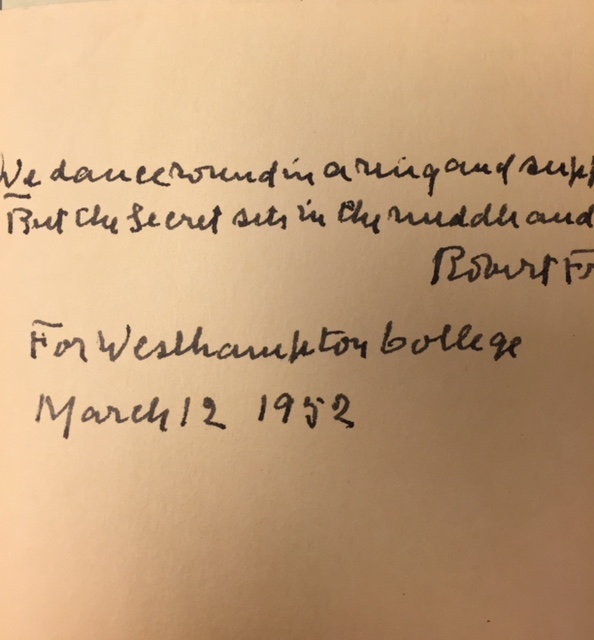 In the Galvin Rare Book Room, we have several copies of Frost's works, many of them signed and adorned with J. J. Lankes woodcuts created for the books.  Mr. Frost came to our campus in 1929 and generously signed several of his books for Westhampton College and Richmond College.  We also have a copy signed to his friend Jay B. Hubbell, an alum of Richmond College and noted American Literature scholar.  The book also includes a copy of one of Frost's poems, written out in his distinctive hand. 
So, take the road less traveled by, and stop in the Rare Book Room on level B1.  It could make all the difference.

-Betty Dickie, Special Collections Cataloging and Preservation Associate