You can certainly find an exceptional legal education at Richmond Law. But these couples also just happened to find love. On this Valentine's Day, we're happy to share the stories of three Richmond Law couples from past and present. 
He Almost Missed Her: Margaret Nelson, L'87 and Bill Phillips, L'85
In February of 1985, Bill was going into the second semester of his third year and Margaret was half-way through her first year. After finishing up research in the library one day, Margaret's friend invited her to a gathering in the Down Under. That same friend mentioned he had someone he wanted Margaret to meet. That someone was Bill. "I almost missed her," said Bill. "Another couple of months [and] we would not have met."
Their first date was at the law school's own "The Libel Show" (a hybrid sketch-comedy and talent show, today referred to as the "Law Revue"). Next up, they went out to lunch in Lynchburg, Virginia. "That's the irony," said Margaret. "We're both from Lynchburg and we didn't know each other." From there, Bill and Margaret went on to have a third date at the Barrister's Ball.
"That spring, after meeting Bill, we really had a lot of fun," said Margaret. "Our relationship was so new." While she would have to finish two years of law school without Bill, she was excited to see him prepare for the future after Richmond Law. 
Margaret and Bill are now married and call Lynchburg, Virginia home once again, but find themselves back at Richmond Law for reunions and special events.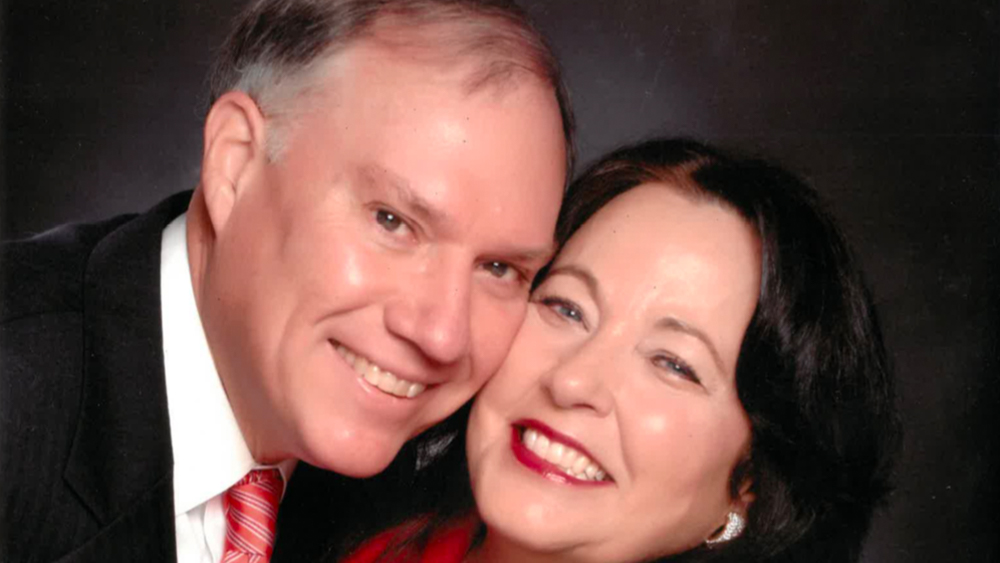 They Started as Friends: Danielle Bringard, L'15, and Brad Kent, L'15
Danielle was initially drawn to Richmond Law after visitng the campus for a mock trial competition as an undergrad. Soon after, she attended a law school fair and spoke to a Richmond Law representative. "I remember just getting this warm, fuzzy feeling about the school — and then I toured and the warm, fuzzy feeling was still there. I pretty much felt it in my gut and that's where I went." 
Brad, who was attending college in Ohio, had only seen the campus in pictures prior to visiting. The two met each other during their first year at Richmond Law. They both came into law school knowing they had an interest in being trial attorneys. As a result, they were involved in a number of student organizations together, including Moot Court and the Trial Advocacy Board. Even so, Danielle and Brad were friends throughout law school and didn't start dating until after they had graduated.  "The biggest interaction we had was when we judged mock trials together," said Danielle.
In 2016, Brad worked up the courage to ask Danielle out for dinner. On their first date at the Boathouse Restaurant in Richmond, "We were one of the last tables in there that night," Brad recalls.
Still living in Richmond, one of their favorite things to do is visit local cideries in Scott's Addition. And as recent grads, they have expert tips for current Richmond Law couples when it comes to going out in Richmond for date night, including a tour of the new spots in the Scott's Addition neighborhood like Tang and Biscuit and Circuit Arcade Bar.
Toward the end of 2017, Brad proposed to Danielle and now they are planning a fall wedding for October this year.
Love Travels the Distance: Anqi Shao, 2L, and Jingyuan Zhang, 2L
Prior to enrolling at Richmond Law, Anqi and Jingyuan knew each other for five years in their hometown of Beijing, where Anqi worked at a trademark office. Jingyuan worked as an in-house counsel reviewing contracts, and both knew they wanted to continue studying the practice of law in the United States. 
Anqi applied to Richmond Law first. "I received emails from the Admissions Office and I felt really encouraged by them to apply," she said. After she was admitted, Jingyuan also applied. As international students, Anqi and Jingyuan felt welcomed at Richmond Law even before stepping foot on campus — and when they arrived even more so. "The Admissions Office wanted to let us know that they supported us. They didn't want us to feel lonely," said Anqi. 
"We always wanted to have a small, intimate wedding here," said Anqi. "Western weddings are definitely different than Chinese weddings." That dream came true: Anqi and Jingyuan were married here in the States in January 2019.