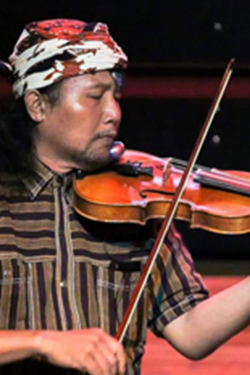 Pak Danis Sugiyanto joins the University of Richmond's music department this spring as a Fulbright scholar-in-residence. Sugiyanto comes from the Indonesian Institute of the Arts in Solo, Java to teach Javanese gamelan, a traditional, percussion-based form of Indonesian music.
Sugiyanto performs traditional gamelan, kroncong and experimental music and has performed throughout Asia, Australia, America and Europe. He has been a featured musician in Robert Wilson's I La Galigo, a global music-theater performance.
"Danis' residency is a great opportunity for both UR students and our community ensembles to interact and learn from an incredibly versatile musician," said associate professor of music and ethnomusicologist Andy McGraw. "His goal isn't to attempt to create experts in Indonesian music, but to encourage an on-ongoing appreciation and interest in the culture of Indonesia."
Sugiyanto's residency at UR will be showcased at the Global Sounds Concert on April 22. The event will celebrate the traditional music and dance of Japanese, Indonesian, West African, Indian and Brazilian cultures. Guests can stay after the show to work with the instruments of local and visiting ensembles.
The concert is free and open to the public and will be held at the University of Richmond, Westhampton Green on April 22 at 3 p.m. https://bit.ly/Eg9NsR.
# # #