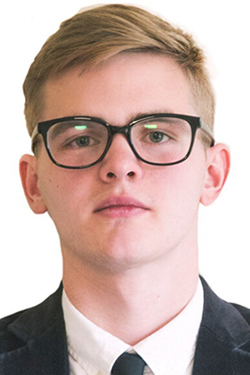 Jack Goodin, of Fairfax, Virginia, has received a Fulbright research grant to study graph theory next March in Montevideo, Uruguay. Goodin graduated with a Bachelor of Science degree in biology from the University of Richmond May 13.
"I will be working with the ecologist Dr. Matías Arim, and we intend to construct a set of networks that will quantitatively characterize the country's cuisine chemically, geographically and socioeconomically," Goodin said. "I'm interested in the international development field and believe this grant will help me understand the problems facing those in need."
Following his Fulbright, Goodin plans to pursue a Ph.D. in applied mathematics, economics or epidemiology.
Eight recent Richmond graduates were awarded Fulbright grants, the most in the institution's history. Previously, the top number of Fulbright recipients was six in 2009. To date, the University of Richmond has had 56 student Fulbright grant recipients.
Nearly 10,000 students from about 700 institutions applied for one of more than 1,900 grants to study, conduct research and teach abroad for the 2018-19 academic year through the Fulbright U.S. Student Program. Recipients of Fulbright awards are selected on the basis of academic and professional achievement, as well as record of service and leadership potential in their respective fields.
# # #
The Fulbright Program is the flagship international educational exchange program sponsored by the U.S. government, designed to increase mutual understanding between the people of the United States and other countries.