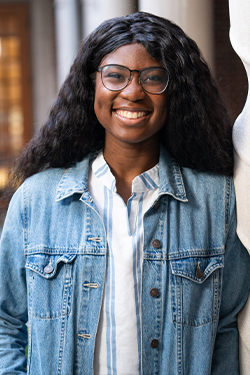 Ayele J. d'Almeida, a junior from Bloomington, Minnesota, has received a Gilman Scholarship to study abroad at University of Cambridge in England for six weeks in the summer of 2019. A leadership studies and political science double major, d'Almeida is considering going to law school. Her study abroad experience is part of the Jepson School of Leadership Studies' Jepson at Cambridge program.  
"This opportunity will not only allow me to grow academically and professionally, but it will also allow me a chance to travel and learn about the history of the United Kingdom," said d'Almeida.
"Gilman Scholarships are wonderful opportunities for our students to marry their academic interests with the necessary financial support to study abroad," said Dana Kuchem, director of the Office of Scholars and Fellowships. "These scholarships are competitive, and University of Richmond students are compelling applicants."
More than 65 percent of University of Richmond students complete a study abroad experience before graduating.
Three University of Richmond students have received Gilman scholarships to support their study abroad experiences this spring and summer. University of Richmond has had 27 Gilman Scholars since the program started in 2001. The University had six Gilman Scholars for 2017-18, the highest number in the institution's history. The previous top year was five scholars in 2011-12.
###
Learn more about the Benjamin A. Gilman International Scholarship Program.