Robins School of Business Alumni Hall of Fame Recognizes Bobby Ukrop, Chairman and CEO of Ukrop's Homestyle Foods
February 18, 2019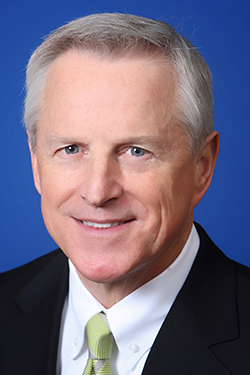 An accomplished executive and community leader will be inducted into the Robins School Alumni Hall of Fame at 6:30 p.m. on Feb. 21 in Queally Hall of the Robins School of Business.
Bobby Ukrop spent a 40-year career at Ukrop's Super Markets, the last twelve as CEO. He is currently chairman and CEO of Ukrop's Homestyle Foods and co-chair of Ukrop's Threads.
He also serves as co-founder and board member of the Richmond Sports Backers, chair of SwimRVA, and is on the boards of the Collegiate School, Greater Richmond Partnership, VCU Business School Foundation, and Lansing Building Products. He is on the Advisory Board of The Salvation Army.
He is a graduate of the University of Richmond where he earned a bachelor of science in Business Administration in 1969. He also served as a University Trustee for 20 years.
"We are delighted to recognize Bobby Ukrop for his many contributions to the University of Richmond, our city, and business practices in general," said Nancy Bagranoff, dean of the Robins School of Business. "Bobby's values and business acumen make him an ideal leader who can inspire us all." 
The Robins School of Business Alumni Hall of Fame award and induction are given annually to recognize an alumnus or alumna of the University of Richmond who graduated 10 or more years previously and has made significant accomplishments in business and service. Prior recipients include Melanie Healey, Austin Brockenbrough III, and E. Claiborne Robins.