University of Richmond Faculty Experts Featured in New Netflix Documentary Series About Wrongful Convictions Out This Week
April 14, 2020
UNIVERSITY OF RICHMOND — Two University of Richmond faculty members are featured on Netflix's latest true-crime documentary series "The Innocence Files." 
The experts, Jepson School of Leadership Studies professor Julian Hayter and law professor Mary Tate, appear in episode six, which focuses on Thomas Haynesworth, a black man who was wrongfully convicted of rape in Richmond, Virginia, in 1984 and exonerated after 27 years in prison.
The series will be available for streaming worldwide April 15.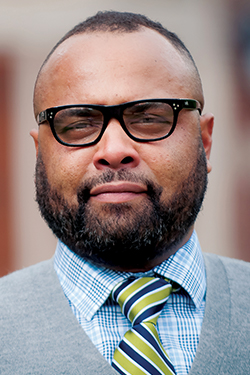 Historian Julian Hayter, a leading expert on modern U.S. and African-American history, provides historical context related to Haynesworth's conviction.
"Systems and institutions don't die easily, and that's especially true for Southern segregation, and perhaps doubly-so for Jim Crow-era policing, where law enforcement thrived on shady anti-constitutional practices," Hayter said. "None are more infamous than the use of unreliable eyewitness accounts to falsely arrest and convict African Americans, especially in cases that involved white women. This is what we see  culminate in the Haynesworth case."
Law professor Mary Tate, an expert on wrongful convictions and director of the Richmond School of Law's Institute for Actual Innocence, also appears throughout the episode.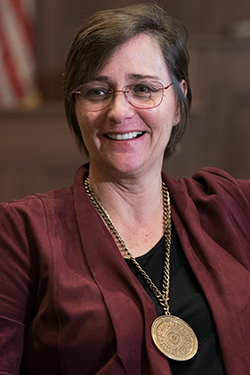 Tate moderated a panel discussion in spring 2019 that included Thomas Haynesworth as well as Janet Burke, a sexual assault survivor who mistakenly identified Haynesworth as her attacker. Producers say portions of the panel discussion are featured throughout the episode.
"We cannot overstate the power wrongful convictions have in terms of an individual life," said Tate. "Wrongful convictions also are tremendously dangerous and troubling in that they erode confidence in our justice system. I'm happy this series will draw more attention to this important issue."
Over the course of nine episodes, "The Innocence Files" tells the stories of Haynesworth and seven other people wrongfully convicted of crimes, chronicling the work of the Innocence Project and other organizations fighting to overturn wrongful convictions.
The series is produced and directed by Academy Award nominee Liz Garbus and Academy Award winners Alex Gibney and Roger Ross Williams.
###