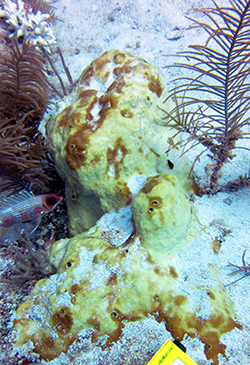 The National Science Foundation (NSF) has awarded Malcolm Hill, a University of Richmond professor of biology, a one-year grant under its Rapid Response Research program, which expedites grant applications and awards for projects of an urgent nature.
The nearly $70,000 grant will support his research on coral reef health. This project, "Abnormal Bleaching in Cliona Varians in the Florida Keys: Consequences for Coral Reef Health," resulted from observations Hill made while conducting his ongoing research examining the sponge populations in the lower Florida Keys.
"This may be the first report of extensive bleaching of this particular sponge, which is generally very resilient to environmental stressors," explained Hill. "Bleaching occurs when the algae that normally live in the sponge leave the host. The unusual disruption of the symbiosis could lead to significant problems for coral reef health."
Sponges are important members of coral reefs around the world in part because detritus released from sponges supports the food chain of a large diversity of organisms in tropical ocean habitats.
The research conducted under this NSF program may help to develop new habitat management strategies. 
"It is a great honor to receive this funding and to start this important line of research," Hill said. "In addition to the potential environmental impact, I'm happy this project will help enrich undergraduate student research experiences at University of Richmond."
Hill has taught at UR since 2004. He received his bachelor's degree in biology at Colby College and completed his Ph.D. in Coral Reef Evolutionary Ecology at the University of Houston.
# # #