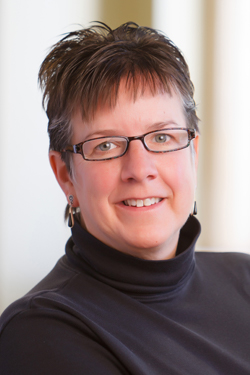 The Council on Undergraduate Research (CUR) and The Barry Goldwater Scholarship and Excellence in Education Foundation have awarded University of Richmond chemistry professor Carol Parish the 2016 Goldwater Scholars Faculty Mentor Award celebrating her achievements as a mentor, scholar and educator.
This national recognition honors both Parish's research and her ability to involve undergraduates in that research. The recipient must conduct her research in a science, technology, engineering or mathematics discipline and must have mentored at least three Goldwater Scholars during their career.
Parish, whose area of expertise is computational and theoretical physical chemistry, joined UR's faculty in 2005. In the past 14 years she has coauthored 27 research publications with 59 undergraduate coauthors. She has raised more than $2 million to support her research group. She has mentored more than 80 undergraduates in research focusing on developing an atomistic understanding of important processes in chemistry, biology and physics. Her students have won numerous scholarships, including eight Goldwater scholarships, three American Chemical Society scholarships, a Fulbright fellowship and a Rhodes scholarship.
"I am very honored that my work with students has been recognized in this way," said Parish. "I am very lucky – I have worked with a great number of amazingly bright, talented and hard-working students over the years. This award recognizes their many significant achievements. I have the best job in the world – mentoring the next generation of scientists and entrepreneurs."
"I'm so pleased that Carol's significant engagement with our undergraduate students is being honored by this award," said Vice President for Academic Affairs and Provost Jacque Fetrow. "This recognition reflects powerfully a key priority that distinguishes all faculty at the University of Richmond; a deep, personal and abiding commitment to students, including providing meaningful opportunities for them to participate in important and sometimes groundbreaking research."
"Carol represents the excellence that defines the university. She is deeply committed to the teacher-scholar model that allows Richmond to make a transformational difference in students' lives," Fetrow added.
Parish has received numerous other accolades for her accomplishments as a faculty member and mentor. The American Chemical Society named her to the 2015 class of ACS Fellows, which honors scientists who have demonstrated outstanding accomplishments in chemistry and important contributions to ACS, the world's largest scientific society. She received the University of Richmond Outstanding Mentor Award in 2008 and the Henry Dreyfus Teacher-Scholar Award in 2005.
Parish serves as director of Richmond's Beckman Foundation program, which provides scholarships for faculty-mentored student research.
"Dr. Parish is a leader in the field of quantum chemistry, and she utilizes her expertise and connections to conduct novel and groundbreaking research with undergraduate students," said Arjun Jaini, a rising junior who is majoring in chemistry and minoring in economics. "The experiences and opportunities that she has provided for all of her undergraduate students will allow us to be highly successful and competitive in our future endeavors."
Jaini began working with Parish during the summer after his sophomore year in high school. His research with Parish focuses on how tautomers can affect the Bergman Cyclization reaction. The product of Bergman Cyclization, which is para-benzyne, has applications in cancer treatments. He says one of his favorite things about her is the way she treats her students as colleagues.
"Needless to say, she is one of the major reasons I decided to come to UR," Jaini added. "She has taught me so much about working in a professional environment, conducting high-level research, applying for grants and presenting at conferences."
Rising senior Adam Luxon is a chemistry major, mathematics minor. He has worked closely with Parish researching computational quantum chemistry, specifically studying the electronic structure of diradical hydrocarbons. 
"Dr. Parish has had a huge impact on my academic life," said Luxon. "She has pushed me to pursue my interests in chemistry and math and helped me make plans for my future in the field of science."
Parish will receive her award during the CUR Biennial ceremony in Tampa in late June.
The Barry Goldwater Scholarship and Excellence in Education Foundation provides a continuing source of highly qualified scientists, mathematicians and engineers by awarding scholarships to college students who intend to pursue research careers in these fields.
The Council on Undergraduate Research supports and facilitates high-quality undergraduate student- faculty collaborative research, scholarship, and creative activities. More than 700 institutions and nearly 10,000 individuals belong to CUR.
# # #