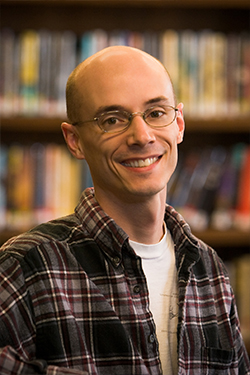 University of Richmond professor of chemistry Wade Downey has been awarded an $8,000 summer research grant from Organic Syntheses for a project that could have applications in the fields of pharmaceuticals, pesticides and herbicides.
Downey and UR student researchers focus on discovering processes that might be used to synthesize previously inaccessible pharmaceutical options or streamline the production of known biologically active compounds so that drug prices can lowered. Another application of the research is identifying chemical processes that could minimize environmental waste.
"We are trying to develop new chemical reactions that no one has ever performed before," Downey said. "It's like inventing a new tool, which may make old tools obsolete, or may allow us to build things, for example, molecules that could be pharmaceuticals, that no one has ever been able to build before."
Downey, an organic chemist, has taught at UR since 2005. He received his Bachelor of Science in chemistry from University of North Carolina and he completed his Ph.D. at Harvard University. He has mentored the research experiences of more than 40 undergraduates and will work with UR sophomore Danielle Sklar on this project.
Downey's work has been funded by numerous organizations including the National Science Foundation, the American Chemical Society-Petroleum Research Fund, The Camille & Henry Dreyfus Foundation, Research Corporation and the Thomas F. and Kate Miller Jeffress Memorial Trust.
Learn more about Downey and his research group on his blog: http://blog.richmond.edu/downey/
###