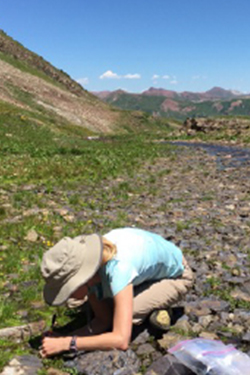 University of Richmond biology professor Carrie Wu has received two grant awards for her research related to plant population biology.
Wu is an evolutionary ecologist who researches how the local environment shapes the genetic structure and evolutionary trajectory of natural plant populations.
The Virginia Native Plant Society is supporting Wu's project studying the invasion dynamics of wavyleaf basketgrass, a high-risk species in Virginia forests. Wu is exploring how this non-native plant is spreading across Virginia and Maryland, far outside its normal range.
Wu will also receive support from the Rocky Mountain Biological Laboratory to spend eight weeks in Colorado with an undergraduate researcher to examine how populations of the mountain monkeyflower respond to a rapidly changing environment.
During her trip, she will also examine how increasing temperatures affect floral scent emissions, with existing support from the National Science Foundation.
"Studies like these provide insight into how environmental stresses, adaptation to these conditions and evolutionary change are intertwined," said Wu.
Wu has taught at the University of Richmond since 2009.
# # #