Robins School of Business Alumni Hall of Fame recognizes Melanie Healey, former group president of Procter & Gamble North America
May 30, 2018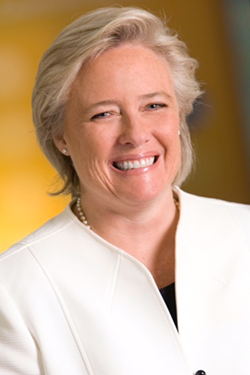 An accomplished C-suite executive officer will be inducted into the Robins School Alumni Hall of Fame at 7 p.m. on June 1 in Queally Hall of the Robins School.
Melanie Healey has more than 30 years of global and operational experience in companies like Procter & Gamble, Johnson & Johnson and S.C. Johnson and in countries, including Brazil, Mexico, Venezuela and the United States. During her tenure at Procter & Gamble, she held a number of positions of responsibility, including Group President and Advisor to the Chairman and Chief Executive Officer and Group President for North America.
She now serves as a member of the board of directors for Verizon, Target, Hilton and PPG. She also serves as an advisor to UrbanSitter.com, Stockpile.com and the Oneida Group.
She is a graduate of the University of Richmond where she earned a bachelor of science in Business Administration in 1983. She also served as a University Trustee and was recognized with the distinguished Alumni Service Award.
"Melanie is an inspirational leader who brings broad perspectives to all her roles," said Nancy Bagranoff, dean of the Robins School of Business. "She is passionate about and committed to developing leaders."
The Robins School of Business Alumni Hall of Fame award and induction are given annually to recognize an alumnus or alumna of the University of Richmond who graduated 10 or more years previously and has made significant accomplishments in business and service. Prior recipients include Austin Brockenbrough III and E. Claiborne Robins.
# # #