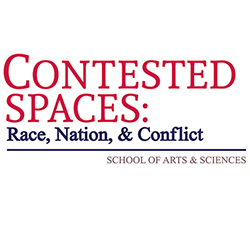 UPDATE: The Wyatt Tee Walker Syposium scheduled for Sept. 13 has been cancelled. The event is slated to be rescheduled at a later time.
The University of Richmond School of Arts & Sciences is organizing programming this year around the theme, "Contested Spaces: Race, Nation, and Conflict" offering the campus the opportunity to come together to discuss a common topic.
"This theme aligns with our strategic plan, Concept 30," said Patrice Rankine, dean of the School of Arts & Sciences. "One of our main goals is to demonstrate how our disciplines address societal challenges and how together, as a community, we have the tools to heal ourselves and the world around us."  

The 2018-19 events will allow the community to foster conversations about ethnic, racial, and cultural differences both locally and globally.
The programming includes:
Sept. 13, Wyatt Tee Walker Symposium
Celebrating the life and contributions of the Reverend Wyatt Tee Walker. More information on the symposium and collection can be found in this media release.
Nov. 8-9, Race, Media, and Journalism
Two different panels will reflect upon the Kerner Report as its 50th anniversary arrives.
Feb. 28-March 1, 2019, 1919 and its Legacies
The conference will discuss the legacies of national and international racial violence and anti-colonialism in 1919.
March 24-26, 2019, Migration: The Contested Spaces of the Mediterranean
Writers and artists will reflect upon their experiences as citizens and immigrants and the impact on their work. 
The full schedule and list of speakers for each event can be found on the Arts & Sciences website. 
# # #