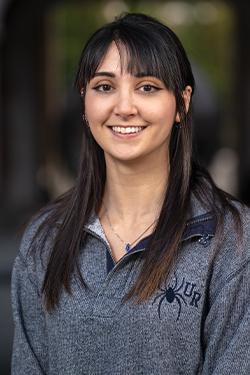 Azin Bahari, a senior from Gaithersburg, Maryland, has received a Gilman Scholarship to support her study abroad experience at Waseda University in Tokyo from mid-March to early August 2019. A biology major, Bahari hopes to become a biological researcher in Tokyo and will focus on Japanese language learning during her experience.

"Japan is renowned for its scientific accomplishments, and science students around the world encounter concepts discovered in Japan in their textbooks every day," Bahari said. "This experience will help me speak and read comfortably in Japanese and become familiar with Japanese business customs."

"Gilman Scholarships are wonderful opportunities for our students to marry their academic interests with the necessary financial support to study abroad," said Dana Kuchem, director of the Office of Scholars and Fellowships. "These scholarships are competitive, and University of Richmond students are compelling applicants."

More than 65 percent of University of Richmond students complete a study abroad experience before graduating.

Three University of Richmond students have received Gilman scholarships to support their study abroad experiences this spring and summer. University of Richmond has had 27 Gilman Scholars since the program started in 2001. The University had six Gilman Scholars for 2017-18, the highest number in the institution's history. The previous top year was five scholars in 2011-12.

###
Learn more about the Benjamin A. Gilman International Scholarship Program.