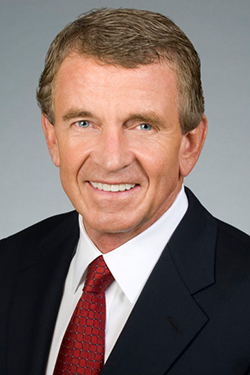 He came to the University of Richmond on a debate scholarship, but golf was his main interest and for 20 years Tim Finchem, a 1969 graduate of the University of Richmond, was the PGA Tour's guiding force serving as its commissioner. 
During this year's Reunion Weekend an honorary degree, Doctor of Humane Letters, honoris causa, will be conferred on Finchem during the President's Breakfast and Alumni Awards Presentation at the Queally Center from 9-11 a.m. on June 1. Finchem will offer remarks. The event will also celebrate the leadership and contributions of other alumni, including the Alumni Award for Distinguished Service.
"Tim Finchem's long and impressive career reflects so many of the qualities that we strive to cultivate in our students," said University of Richmond President Ronald A. Crutcher. "He has been dedicated, collaborative, resourceful, innovative, and tireless in his service to the PGA and to the University. We are proud to count him among our most distinguished alumni and to recognize his many accomplishments and contributions."
Finchem's love of golf began as an 8-year-old following his father around the golf course at Naval Amphibious Base Little Creek in Norfolk, Virginia. After college and political positions, he returned to the game that hooked him at an early age.
He moved to Florida with his family and began working at the PGA Tour as chief operating officer. Five years later in 1994, he became commissioner. He tended to the public image of the game and managed the logistics of tournament infrastructure.
During his two decades with the PGA Tour he charted a creative strategy for growth through the Great Recession, the rise and fall of Tiger Woods, and a boom in golf's mainstream popularity.
The Tour saw unprecedented television contracts, massive increases in prize money, and the establishment of signature new initiatives. The widening market base led to the creation of more golf stars, which led to a stronger fan base. 
Under Finchem's leadership, the Tour also became a charitable powerhouse. Each year PGA Charities gives millions of dollars to more than 3,000 charities. One of Finchem's achievements as commissioner was the establishment of the First Tee, an organization whose mission is to "impact the lives of young people by providing educational programs that build character, instill life-enhancing values, and promote healthy choices through the game of golf."
Before he served as the PGA Tour commissioner, Finchem served as a deputy advisor to President Carter in the Office of Economic Affairs before working on President Carter's re-election campaign. He also founded a marketing and strategies firm.
About Tim Finchem
Attended Richmond on a debate scholarship
Majored in political science
J.D., University of Virginia
Deputy advisor to the president, Office of Economic Affairs, during the Carter administration
Founder, National Marketing and Strategies Group
PGA Tour commissioner, June 1994 to December 2016
University of Richmond trustee emeritus
Single-figure golf handicap
To learn more about Finchem, visit the University of Richmond magazine online for this article about Finchem's career.
###