UR Jepson School of Leadership Studies Awards Recent Graduate with Inaugural Oxford Scholarship
July 22, 2019
UNIVERSITY OF RICHMOND — A University of Richmond student who graduated summa cum laude this May is the recipient of a new scholarship offered by the Jepson School of Leadership Studies, the first undergraduate leadership studies program in the nation.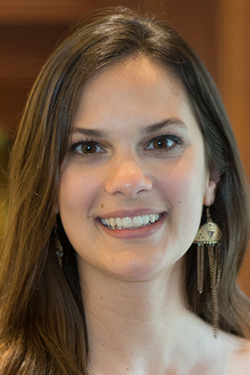 The Jepson Scholars Program will provide students graduating from the Jepson School of Leadership Studies an opportunity to continue their education at the University of Oxford in England. Each year the scholarship will support up to three graduating Jepson seniors who are accepted into a one-year master's program at Oxford.
Sabrina Escobar Miranda will become the scholarship program's first recipient when she begins at Oxford in the fall. She plans to use the scholarship as an opportunity to better understand her native country of El Salvador, focusing her research on the nonprofit sector or gender violence in the country.
The scholarship funds, which will cover tuition, room, board, and fees, are made possible through a donation by Jepson School benefactors Robert S. Jepson Jr. and Alice Andrews Jepson. 
"The scholarships will enable future leaders to gain firsthand experience at global institutions and with people who live and work in an international environment," Robert Jepson said.
"Our students already have the benefit of a world-class undergraduate education," said Jepson School Dean Sandra Peart. "Combined with a world-class graduate education opportunity, Jepson Scholars will be exceptionally well prepared to lead at home and abroad."
###