Image caption: Ed Ayers and Jorge Hernandez, a National Park Service ranger, discuss how Native American, Spanish, and French influences helped shape Texas. The image was taken at Mission San Jose in San Antonio, Texas. 
UNIVERSITY OF RICHMOND — Edward Ayers, Tucker-Boatwright Professor of the Humanities, is the host of a new PBS television show that explores how Americans discover the past by visiting historical sites across the country.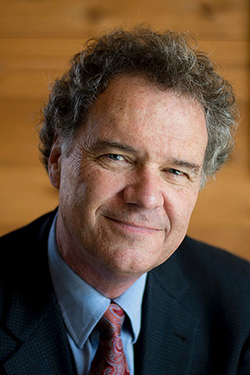 "The Future of America's Past" presents a fresh approach to how history is presented on television by traveling to places that define the most misunderstood parts of America's past.
Ayers visits the sites Americans struggle to discuss and learns from National Park Service interpreters, museum educators, artists, and activists about how they engage a diverse public with the fullness of our nation's history.
"I've learned that history isn't only found in archives," said Ayers. "I want to introduce the people on the front lines to the public because they are the ones who help us understand the past and why it matters so much today." 
Season one is available for streaming online and will be broadcast on 230 PBS stations nationwide. The show's second season is currently being filmed at locations in Boston, Chicago, Utah, and Virginia and will air in April.
In 2013, President Barack Obama awarded Ayers the National Humanities Medal, honoring "his commitment to making our history as widely available and accessible as possible."
Ayers' contributions to public history include co-hosting the hit podcast BackStory and chairing the board of the American Civil War Museum. 
The series is produced by Field Studio and presented by Virginia Public Media.
###