UNIVERSITY OF RICHMOND — Kristine Grayson, an assistant professor of biology at the University of Richmond, has been awarded just over $100,000 from the United States Department of Agriculture for her research on invasive species.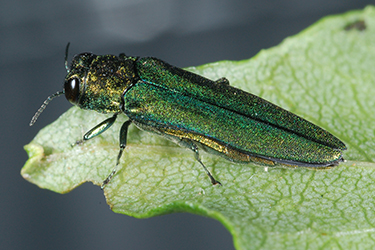 Grayson, whose areas of expertise include population ecology and the spread of invasive forest pests, is studying the emerald ash borer, an Asian beetle that recently invaded the Midwest likely due to accidental transport in shipping cargo. Grayson will collaborate with the USDA Animal and Plant Health Inspection Service to further ongoing work to mitigate the impact of this highly damaging species.
"This species has spread rapidly and resulting in high levels of mortality for ash trees," said Grayson. "The biology and feeding behavior of this species makes it difficult to study, and this project contributes to better strategies for addressing the spread of this beetle."
In order to study this species, Grayson will collaborate with a USDA lab in Michigan to improve rearing methods for emerald ash borer in a controlled laboratory environment, which Grayson says is critical for studying the life cycle and testing management strategies.
Grayson has taught at UR since 2015 and has received support for her research on invasive species from the National Science Foundation and Jeffress Memorial Trust.
###
The Animal and Plant Health Inspection Service is a multi-faceted Agency with a broad mission area that includes protecting and promoting U.S. agricultural health, regulating genetically engineered organisms, administering the Animal Welfare Act and carrying out wildlife damage management activities. These efforts support the overall mission of USDA, which is to protect and promote food, agriculture, natural resources, and related issues.