University of Richmond Legal Clinic Dedicated to Fighting Injustice Celebrates 15 Years of Service to the Community
Institute for Actual Innocence Advocates for the Rights of the Wrongfully Convicted
January 23, 2020
UNIVERSITY OF RICHMOND — For the past 15 years, the Institute for Actual Innocence has fought for the rights of those let down by the justice system.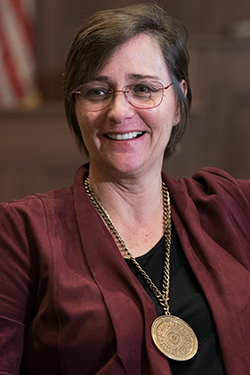 Under the leadership of law professor Mary Kelly Tate, Richmond law students take a leading role in screening, investigating, and litigating felony cases where there is credible evidence of the convicted person's innocence. The clinic also tackles cases of wrongful sentencing, meaning the punishment does not fit the crime.
In one of the institute's more notable victories, it represented a man who was exonerated by DNA after being convicted for a 1976 abduction. Another success occurred in 2017 when one of its clients, a non-violent drug offender, received a presidential commutation after being sentenced to life in prison.
"We cannot overstate the power wrongful convictions have in terms of an individual life," said Tate. "Wrongful convictions also are tremendously dangerous and troubling in that they erode confidence in our justice system."
Participating students collaborate across professional and disciplinary sectors of society, including with lawyers, prosecutors, forensic scientists, judges, and elected officials. 
"An important outcome of directly representing persons in need of legal assistance is the student exposure to the role of public service in the life of a lawyer," said Tate. "The concrete legal skills and experiences gained in the clinic also provide students a practice-ready competitive advantage when they graduate." 
###
---
Learn more about Mary Tate and her work in the latest episode of Spider Talks with President Crutcher: 
Mary Tate is a clinical professor of law and director of the Richmond School of Law's Institute for Actual Innocence, which is celebrating its 15th anniversary in 2020. Professor Tate and her students work to identify and exonerate wrongfully convicted individuals. Her scholarship focuses on post-conviction issues, innocence commissions, and the problem of wrongful convictions.