UNIVERSITY OF RICHMOND — Professor of Biology Rafael de Sá has been awarded more than $400,000 from the National Science Foundation for his research on the diversity and evolution of a frog species found in South America.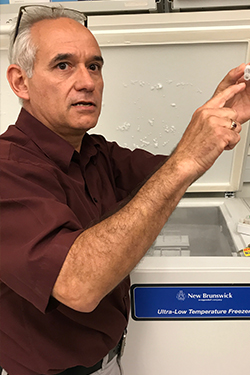 An expert in evolutionary biology and biodiversity, de Sá and his research team will focus their attention on the frog genus Elachistocleis, sometimes referred to as oval frogs. They are among more than 600 species of microhylids, frogs that primarily live underground and are also known as fossorial or burrowing frogs.
"With about one-third of frogs listed as endangered, anything we can do to continue to study frogs is paramount in influencing bio-conservation efforts and policies," de Sá said.
"This clade of frogs constitutes an excellent model to address fundamental questions related to both the diversity and evolution of this species," de Sá said. "Our preliminary data suggests that the species' diversity is highly underestimated, which means there is much more to learn about these frogs."
This three-year project includes collaboration with Dr. João Tonini, a research colleague from Brazil, who will join UR as a post-doctoral research associate in the fall, and the project supports at least two UR undergraduate research students per summer.
Previously, de Sá, who has taught at UR since 1992, led a NSF-funded project that resulted in the discovery of three new frog species in Brazil's Atlantic Forest. He was also named a Fulbright Distinguished Chair in Bogotá, Colombia in 2017.
###
Lead frog photo is courtesy of Wikimedia Commons.