University of Richmond Business School To Offer Course That Shows How the Pandemic Has Changed Marketing
Marketing Professor Will Draw on 40 Years of Industry Experience
June 22, 2020
UNIVERSITY OF RICHMOND — Marketing professionals who want to learn how the coronavirus pandemic has disrupted the field of marketing are doing so as part of a special four-week course offered through the University of Richmond's Robins School of Business Executive Education.
The self-paced, online course, which launched June 22, evolved from marketing instructor Bill Bergman's spring semester course on consumer behavior. He asked his students how they thought consumer behavior would change as a result of the COVID-19 pandemic.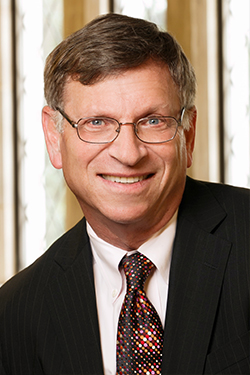 "You can't imagine the response I received," he said. With only 20 students in the class, he received more than 150 responses in one week. Students said they expected an uptick in in-home fitness and curbside dining among other areas.
"These students are really beginning to see where the future is," he said. "And then I kept hearing my internship or job offer got cancelled."
Given what he had learned he decided to create a course that refocused thinking around consumer behavior so participants can gain perspective on emerging trends. "This is really meant for our alumni to think about how the world has changed, where the opportunities are, and how to redirect their career."
Participants will explore growth industries, including telemedicine, in-home fitness, online grocery shopping, and packaged goods. Guest speakers and recruiters will offer added perspective. Speakers include Eddie Yoon, a Chicago- and Hawaii-based author of Superconsumers, Matt Krna, a San Francisco-based venture capitalist, Scott Kauffman, former CEO of MDC, an international advertising firm based in New York City and Canada, and Ben Walker, director of marketing for Baldor Foods of New York.
Bergman said he is not requiring tests or grades in the course, which runs June 22 through July 17. "This is an opportunity for individuals to step back and recalibrate their thinking about marketing," he said.
Bergman has taught marketing courses in the Robins School for more than a decade.
His support of students was recently recognized with the 2020 Robert H. Nicholson Outstanding Advising Award. He also was named as one of the Favorite Business Professors of the Class of 2020 by Poets&Quants. Bergman remains president of the Bergman Group, a Richmond-based advertising agency he founded in 1995. 
More information about the course may be found here.
###