By Amelia Vogler, '11

I never thought I would use a social media outlet as a potential networking tool. But a Facebook post from a summer camp friend brought me to another virtual connection at NBC who was looking for behind-the-scenes help on the Today show.
The week leading up to Memorial Day weekend was designated "Today's Great American Adventure." The kick-off to summer highlighted vacation destinations throughout America and culminated with a live broadcast from Seaside Heights, N.J., where Governor Chris Christie officially reopened the Jersey Shore seven months after Hurricane Sandy's devastation.

The three-hour show took 36 adrenaline- and coffee-fueled hours to produce, but the experience gave me — a journalism major — a whole new look at the field. As runners, the other assistants and I went on coffee and airport runs, held umbrellas, brought water bottles, and helped wherever else we were needed.

Here's a glimpse into what it takes to produce an episode of Today.
Day One
2 p.m.: Leave Richmond, Va., in hopes of avoiding the dreaded D.C. traffic.
3:30 p.m.: Encounter D.C. traffic.
8:30 p.m.: Arrive in Toms River, N.J. Calling it a night since my first long day begins early tomorrow morning.
Day Two
6:30 a.m.: Wake up and get ready to meet the Today crew at Seaside Heights.
7:30 a.m.: Meet my fellow runners and loiter about the famed boardwalk. Our production manager is delayed after the tornado in Moore, Okla.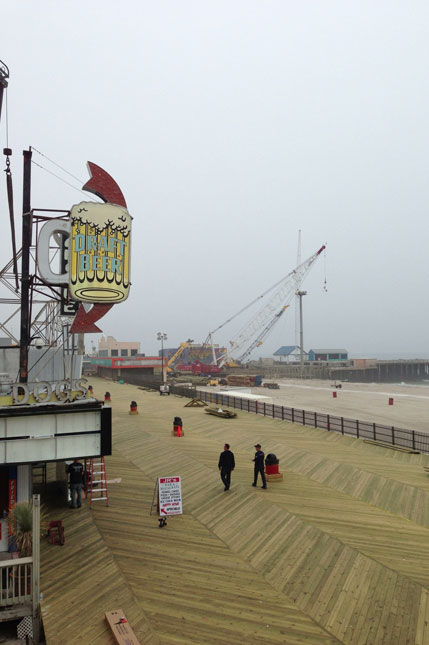 10 a.m.: Meet our production manager and tour the control room trailers.
11 a.m.: Run my first errand. One of the producers was moved to the Jersey Shore at the last minute after programming changes and her luggage was lost. I'm told to buy some shirts with her company card. (I hope she likes stripes…)
2 p.m.: Go back to the hotel to pick up office supplies. The copy machine also arrived, along with tables and chairs. Time to make the trailer a functioning office.
5 p.m.: Off the clock. The runners grab pizza at Maruca's Tomato Pies. It's no wonder celebrity chef Giada De Laurentiis will film a segment here for Friday's broadcast — it was delicious!
Day Three
6 a.m.: I volunteered to come in early to help film a teaser for tomorrow's broadcast. My first task: Get breakfast and coffee for my producer and cameraman.
10 a.m.: Drive to the Toms River airport to calculate the precise mileage and duration. Matt Lauer will be flying out of there after the show so it has to be accurate.
11:30 a.m.: Return from the airport. Realized I don't understand jughandle turns.
2 p.m.: More producers arrive from New York, so more tasks to complete and errands to run. We have thousands of fan passes and credentials to put on lanyards.
3:15 p.m.: We run out of lanyards.
3:45 p.m.: The office supply stores don't have nearly enough lanyards.
4 p.m.: Receive word that someone from the New York office will bring more tomorrow.
6 p.m.: Dinner with the runners and producers. A less-than-promising forecast means this might literally be the calm before the storm.
9 p.m.: Bedtime. We need to be at home base at 3 a.m. Is four and a half hours considered a nap or a restful night's sleep?
Day Four
2:30 a.m.: Head over to Seaside Heights to finish up the final preparations for Today's broadcast. It's not raining yet; maybe Al Roker's forecast was wrong?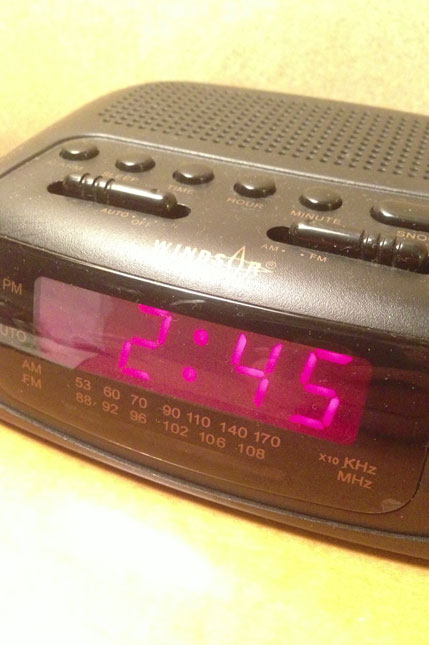 3:30 a.m.: Copy machine breaks. Everyone freaks out. The directions are in Japanese.
3:40 a.m.: Copy machine is fixed. Apparently it can't copy and staple at the same time. Luckily, that's what runners are for. I now carry a stapler with me at all times.
4:30 a.m.: Final assignment meeting with our producers. My producer and I will be directing co-host Savannah Guthrie. I'm a bit excited.
5:30 a.m.: One of the producers asks if I can get Matt Lauer's breakfast. Of course! His order: A Western omelet and whole wheat toast.
6:50 a.m.: We're ready to go live.
7 a.m.: "This is Today's Great American Adventure, live at the Jersey Shore."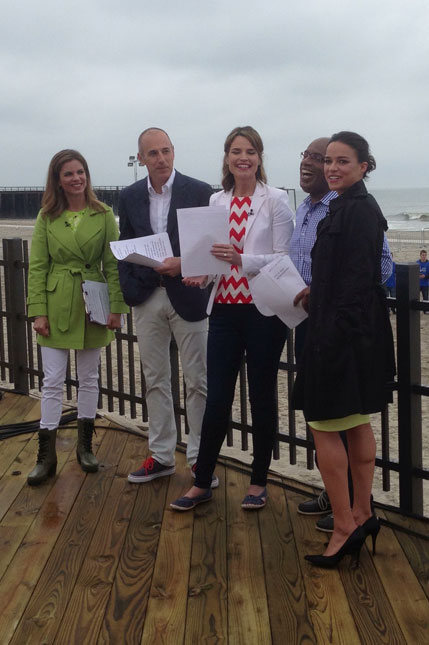 7:01 a.m.: The whole broadcast feels like a blur. Governor Chris Christie greets fans; the cast of Jersey Shore is interviewed; the band fun. performs a few of their chart toppers; and Christie and his family cut a 5-mile ribbon, officially reopening the Jersey Shore.
9:30 a.m.: Since Lauer and Guthrie host the first two hours of the show, I ask if it's a good time to ask Guthrie — a fellow Pi Beta Phi sister — for a photo.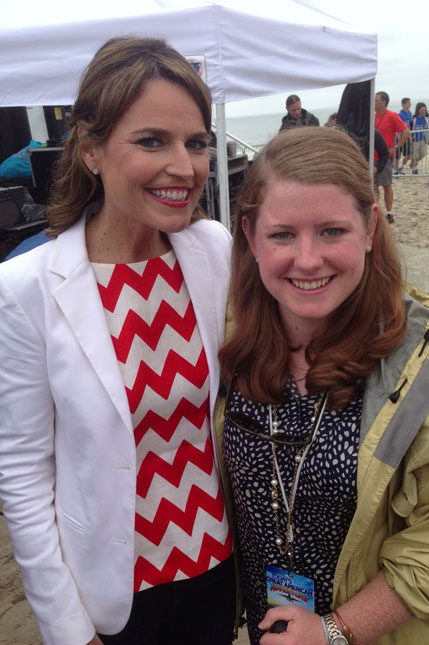 9:50 a.m.: The show ends with a final performance from fun.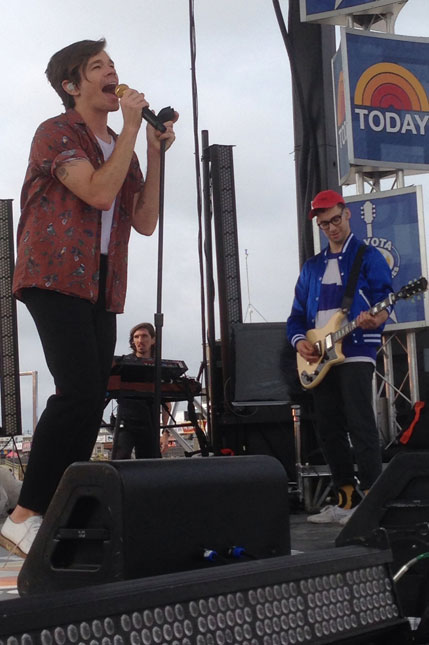 10:30 a.m.: Celebrations and lunch with the entire Today crew, a wrap-up meeting with our producers, and then it's time to check out.