By Anna Allen, '16
When we think of Mary Queen of Scots (1542-87), we probably have the wrong idea, according to Nikki Davis, '16. "Mary is often thought of as Bloody Mary (the nickname of a different queen, Queen Mary I of England) or she is thought of as a murderer or an adulterer," says Davis. But why does Mary have these negative associations with her name, and is there any element of truth to the tales?
"From a young age, I had a strange fascination with women who may have been wrongfully beheaded, burned, or executed. Women like Joan of Arc, Anne Boleyn, Jane Grey. Those women caught my attention early on in life and sparked my curiosity — and my anger," Davis says.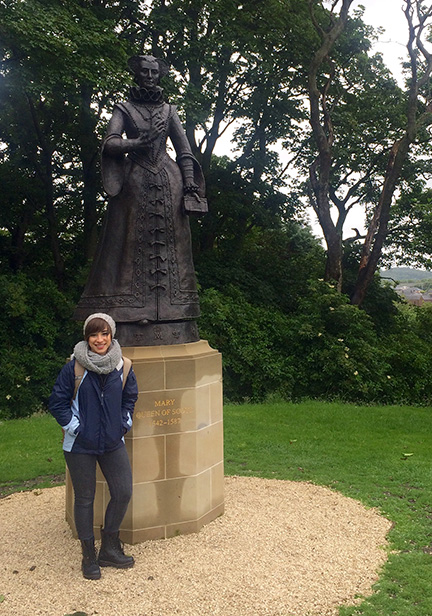 But some of the documents proved misleading, including the famous Casket Letters, which were supposedly written by Mary to her "lover," the Earl of Bothwell, just before he murdered her husband, Lord Darnley. Today, the letters are widely accepted to have been forgeries, but many people still believe Mary wrote them herself, reinforcing her status as adulterer and murderer. "When we look at the facts, it was most likely that Bothwell raped Mary and then coerced her into marrying him, after he killed Darnley," says Davis. "Unfortunately, a bad girl sells."  
Inspired by living in Mary's surroundings, Davis wanted to tell the more truthful story of Mary's life to the public. She turned to her love of acting and theater to express what aging documents could not. "I wanted to learn as much about Mary as possible, try to understand her on a very human level, and then use the medium of theater as an accessible, entertaining way of getting the truth across," says Davis. "My research became not just about getting the facts, but also became about correcting a wrong and reclaiming the lost story of a woman who has been unjustly demonized throughout history."
In her performance, Davis walks her audience through Mary's life, including her thoughts and emotions, which she found through her research in the National Library of Scotland. "It was incredibly informative, especially when I got my hands on her letters, hundreds of pages of her own words. I could have seen myself writing those words, and I knew others could, too. That's why my play is so important to me."
But it was retracing Mary's steps in places like Holyrood Palace, her home in Edinburgh, that helped Davis emotionally and intellectually process the life of Mary. "A huge part of my research was walking around Edinburgh and imagining what was here when she was here. What could she see? What could she touch?" says Davis. "The perspective I gained from simply being there — that's something you just can't substitute with any amount of words or documents, and that's what I hope to offer my audience with my performance."
Davis will perform her play in April 2016 at the Modlin Center for the Arts.