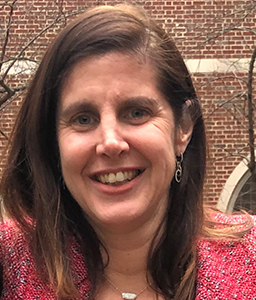 For students in Professor Leigh Melton's Elder Law Practicum, the pandemic has added an extra layer of urgency to their important work. The practicum is part of a Medical-Legal Partnership with VCU Health, which provides medical and social services to low-income and disabled residents of the Dominion Place independent living facility in Richmond.
Melton and her students typically meet with residents on-site at Dominion Place every Thursday. They started their clinical work in 2018, when Melton estimated that less than 5% of residents had advance medical directives and power of attorney. Since that time, the team completes around 20 such documents each semester. 
But "when coronavirus hit, we … had to figure out how to pivot," explained Melton. Dominion Place closed its doors to guests, and many residents are without high-speed internet access for digital meetings.
So, Melton and her students turned to the phones. The social worker on staff at Dominion Place slipped a note under residents' doors urging them to contact the Richmond Law team with any pressing legal needs. "I think [students] have worked harder since we've gone online," said Melton. In addition to receiving new inquiries from residents, students are conducting wellness calls to check-in on former clients.
Many residents reached out with concerns that the advance medical directives they had previously prepared in consultation with the students would need to be updated. Others had concerns not specifically related to COVID, but that were exacerbated by the circumstances, like a resident who recently found out that lung cancer was spreading in her body. "She was hellbent on getting things done very quickly and we wanted to accommodate her," said Melton. And within 24 hours, the team had spoken with her family and prepared a will, power of attorney, and advance medical directive documents.
It's this intersection between their legal expertise and the lateral connection to the COVID crisis that makes their service a valuable one, explains Melton. The work allows Richmond Law students to "improve the circumstances of an at-risk population and improve their quality of life." She added, "Influence extends far beyond the actual client in this setting and brings a ripple effect into the community. For example, hospitals gain as the medical directives that establish their patients' wishes are created." 
Local attorneys – including a number of Richmond Law alumni – have played a key role in supporting the students in their work along the way. "By teaching and providing opportunities for the next generation of lawyers to engage in this important work, we are cultivating this important mindset for future generations," said Melton.