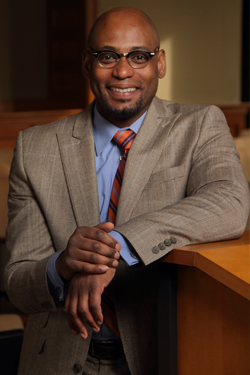 Patrice Rankine, who has served as dean for the Arts and Humanities at Hope College in Holland, Mich., will become dean of the University of Richmond's School of Arts and Sciences on June 1.
He will take over from Kathleen Skerrett, who has served as dean since 2011. After a sabbatical, Skerrett will resume her appointment as a tenured professor in the university's Department of Religious Studies.
At Hope College, Rankine oversaw nine departments and several interdisciplinary programs, including a new museum and music building, and an art gallery.
Prior to his time at Hope College, he served as assistant head of the School of Languages and Cultures and director of the Interdisciplinary Program in Classics, both at Purdue University. He has been a professor for nearly two decades.

"Dr. Rankine is an experienced and accomplished scholar and administrator who deeply appreciates the importance we at Richmond attach to our deans being student-focused and committed to faculty development," said University of Richmond Provost Jacque Fetrow. "At Hope College and Purdue University, he has provided inspired academic leadership to faculty colleagues for more than ten years, while also distinguishing himself as a colleague and a scholar. We look forward to what he will do to build upon the achievements of Dean Skerrett and further advance the outstanding programs of our College of Arts and Sciences."
"I am absolutely delighted to join the faculty and leadership team at the University of Richmond," said Rankine. "Richmond's School of Arts and Sciences has a diverse, accomplished faculty. The colleagues are national leaders in their areas of research, and teachers who produce productive citizens. Under the leadership of President Crutcher, Provost Fetrow, and the deans of schools, the university is poised for even greater heights, and I am honored to have been chosen to help us toward this future."
Rankine earned his Ph.D. in classical languages and literature from Yale University. He holds Master of Arts and Master of Philosophy degrees in Classical Languages and Literatures from Yale and a Bachelor of Arts degree from Brooklyn College, City University of New York. He is an accomplished scholar having published three books, dozens of articles and book reviews; received numerous awards, honors and grants; and delivered presentations and lectures at dozens of national and international academic conferences.
# # #