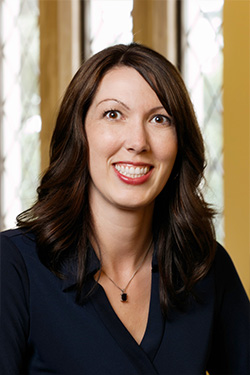 The American Association of University Women (AAUW) has awarded Joanna Love, assistant professor of music at University of Richmond, the American Fellowship for Postdoctoral Research.
Love, who has taught at Richmond since 2013, is an expert in 20th- and 21st-century American popular music and music's role in advertising, video and film. Her teaching and research reflect an interdisciplinary focus on popular culture, media studies, music industry and aesthetics.
The fellowship of $30,000 will help support Love as she takes a one-year break from teaching and university service to work on her book, "Soda Goes Pop: Pepsi-Cola Advertising and Popular Music, 1939-2012."
"This work examines the mediating role that Pepsi television commercials have played in forging relationships between American music and advertising industries since the mid-twentieth century, charting their evolution from showcasing specially-composed jingles to celebrity musicians singing new pop songs and styles," said Love.
Love completed her bachelor's and master's degrees at the University of Nevada-Reno. She holds a Ph.D. in musicology from the University of California-Los Angeles.
The AAUW American Fellowships program, established in 1888, is one of the oldest non-institutional sources of graduate funding for women in the U.S. It provides fellowships for women pursuing full-time study to complete dissertations, conduct postdoctoral research or prepare research for publication. The fund's primary purpose is to increase the number of women in tenure-track positions, and to promote equality for women in higher education.
# # #