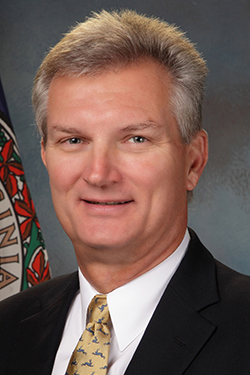 University of Richmond's Robins School of Business will honor Aubrey Layne, secretary of finance for the Commonwealth of Virginia, as Executive of the Year.
Layne, who serves on the Robins School of Business Executive Advisory Council, earned a bachelor of science in accounting from the University of Richmond. He will be recognized during Honors Convocation April 20.
As secretary of finance, Layne guides and oversees revenue projections, tax collection, the state budget and aid distribution. He previously served four years as secretary of transportation.
Before his service to the Commonwealth of Virginia, Layne served as president of An Achievable Dream Academy in Newport News, a partnership among Newport News Public Schools, the City of Newport News and the local business community to give students who are at risk of failure in school due to socioeconomic factors, a chance to succeed.
He has served as president and principal broker of Great Atlantic Properties. He also held various positions at Hofheimer's and ended his tenure there as president. He began his career as a certified public accountant with KPMG.
This event also recognizes the installation of the Beta gamma Sigma Honor Society inductees along with recipients of merit scholarships for the 2017-18 academic year and 2018 awards for students in the business school.
Special guests include Governor Ralph S. Northam and First Lady Pam Northam, as well as Senator Walter A. Stosch, who also is a UR alum.
A complete list of previous Executive of the Year recipients is located here.       
# # #