University of Richmond students win funding for app concepts on parking, study abroad and tipping in Business Pitch Competition
April 18, 2018
Four University of Richmond students received funding to help jumpstart their business concept in the Robins School of Business' annual Business Pitch competition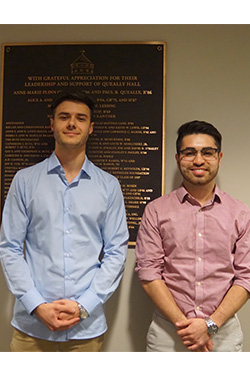 Junior computer science majors Noah Applebaum and Chris Cushman were awarded $3,500 funding and first place for ParkShare, a mobile application that allows users to rent out property they own for parking.
"ParkShare is a peer-to-peer parking platform. We like to think of ourselves as the Airbnb of parking," said Cushman.
"We live in a world where people rent out their homes, give strangers rides, and even walk strangers dogs, so why not rent our driveways?" said Applebaum. "Our app will help people find safe places to park without succumbing to exorbitant prices or having to spend time understanding cryptic street parking signs."
Senior Annie Barrett, a business administration major with a concentration in economics, was awarded second place and $1,000 funding for Viden, a mobile app that that allows study abroad students to share "insider" information about a city.
Amber Answine, an MBA student, received third place and $500 for Grato, a mobile app for cashless, secure hospitality tipping.
The competition, sponsored by the Entrepreneurship Club, is open to all UR undergraduate and graduate school students to create and pitch a business endeavor. The presentations are judged by Robins School of Business faculty and executives from local businesses.
# # #