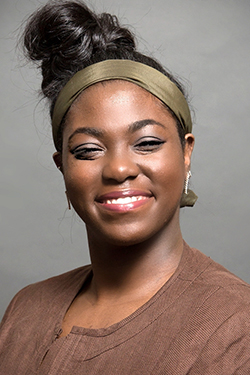 University of Richmond senior Natalie Elizabeth McCray, of Greenville, South Carolina, has received a Gilman scholarship to support her two-month study abroad experience in Stockholm, Sweden.
McCray is majoring in psychology and minoring in Russian Studies. She will be working as an intern for Emmaus Stockholm, a non-profit that is part of the international movement Emmaus International. Her role will include work promoting peace, human rights and sustainable development.
"This experience will prepare me for work within the international non-profit community and graduate school," McCray said. "I plan to work with organizations like Emmaus Stockholm to come up with solutions to social issues that plague communities. I know skills and lessons gained this summer will stay with me for many years to come."
Following graduation from the University of Richmond, McCray plans to pursue a master's degree in Intercultural Communication at a university in the United Kingdom.
"Study abroad experiences are a hallmark of a Richmond education," said Dana Kuchem, director of the Office of Scholars and Fellowships. "This award allows a wider range of students access to international opportunities, which serve a formative role in students' understanding of themselves and the world around them."
More than 65 percent of University of Richmond students complete a study abroad experience before graduating.
University of Richmond has had 24 Gilman Scholars since the program started in 2001.
###
The U.S. Department of State's Benjamin A. Gilman International Scholarship is open to U.S. citizen undergraduate students who are receiving Federal Pell Grant funding at a two- or four-year college or university. Gilman Scholars receive up to $5,000 to apply toward study abroad experiences. Gilman scholars are also eligible for 12 months of noncompetitive eligibility hiring status within the federal government.