Richmond Mayor Levar Stoney to Kick Off University of Richmond Leadership Speaker Series
August 29, 2018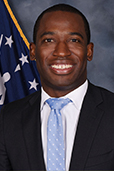 Editor's Note: Mayor Stoney's talk on voter disenfranchisement, which was postponed due to severe weather, has been rescheduled for Nov. 28, 7 p.m., Alice Jepson Theatre.  
The Jepson School of Leadership Studies at the University of Richmond will welcome Richmond Mayor Levar Stoney as the inaugural speaker for this year's Jepson Leadership Forum, an annual speaker series that tackles various leadership topics.
The 2018-19 series "Does Democracy Work?" will host politicians, political advisors, and experts on poverty, elections, and technology to discuss American democracy. The series kicks off on Sept.12 at 7 p.m. when Stoney will speak on voter disenfranchisement. The event will be live streamed. 
Additional Forum events this fall include:
How Democracy is Failing America's Poor, Oct. 25, 4:30 p.m.
Peter Edelman is a professor of constitutional law and poverty law at Georgetown University Law Center and is faculty director of the Georgetown Center on Poverty and Inequality. He was a legislative assistant to Senator Robert F. Kennedy and was Issues Director for Senator Edward Kennedy's presidential campaign in 1980.
Toward an Inclusive Democracy: Eleanor Roosevelt's Legacy, Dec. 4, 4:30 p.m.
Blanche Wiesen Cook is the Distinguished Professor of History and Women's Studies at John Jay College of Criminal Justice and the Graduate Center of the City University of New York. Her book Eleanor Roosevelt: Volume One has won numerous awards, including the Lambda Literary Award and The Los Angeles Times Biography Prize. It also is a New York Times best seller.
Audience members will have opportunities to interact with speakers during book signings and receptions. Programs are free and open to the public, but registration is required. 
To register or for more information, visit jepson.richmond.edu/forum or call 804-287-6522.  
# # #