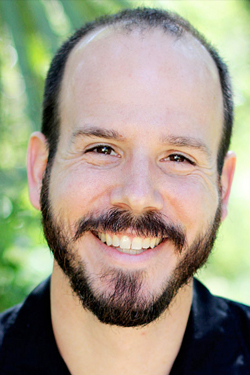 Children's author Chris Barton, the author of numerous best-selling picture books and biographies about underrepresented figures in history and science, will visit University of Richmond Oct. 10 for a talk and book signing.
Barton's non-fiction, award-winning books include The Day-Glo Brothers, which is about the creation of fluorescent colors, Dazzle Ships, which discusses the creative coloring of WWI ships to confuse enemies, and Whoosh!, which tackles the little-known invention of the super-soaker. He also writes humorous picture books with his most notable being Shark vs. Train. 
"Chris Barton is an eclectic author, and attendees will see how he appeals to a wide range of young readers," said Angela Leeper, director of curriculum materials.
Barton's books include many diverse characters, and he and his wife, a fellow novelist, are advocates for greater diversity in children's literature.
The event, which is free and open to the public, will be held in Tyler Haynes Commons, Alice Haynes Room, at 5:30 p.m.
This event is sponsored by the School of Arts & Sciences, Boatwright Memorial Library and the SPCS Graduate Education program. The talk is also a part of the Graduate Education Speaker Series.
# # #