University of Richmond Leadership Studies Professor Named 2018 Association for Psychological Science Fellow
January 7, 2019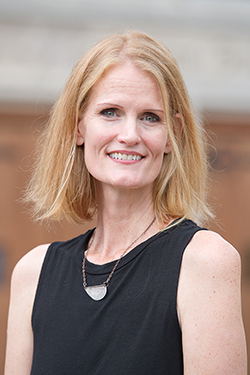 The Association for Psychological Science (APS) has named University of Richmond Leadership Studies and Psychology Professor Crystal Hoyt to the 2018 class of APS Fellows. Fellow status is awarded to those who have made sustained outstanding contributions to the science of psychology.
As a social psychologist, Hoyt's research covers topics at the intersection of human belief systems and social justice. She explores the role of beliefs, such as self-efficacy, mindsets, and political ideologies, in the experiences and the perceptions of those with devalued social identities, such as women and minorities in leadership or STEM fields, the overweight, or sexual minorities.
She maintains an active experimental research program where she has mentored nearly 100 UR undergraduate students in their research endeavors and has co-authored 18 articles or chapters with current and former students. 
"Conducting research, and doing so with undergraduate students, is incredibly important to me," said Hoyt. "This honor not only recognizes my contributions to the science of psychology, but it also signifies that the University of Richmond is an institution that values and supports its faculty members' research programs." 
Hoyt is the second UR social psychologist to receive APS fellow status, joining Leadership Studies Professor George R. Goethals. More details on this year's APS fellows can be found online.
Hoyt joined University of Richmond's Jepson School of Leadership Studies in 2003 and received the Distinguished Educator Award in 2009.
# # # 
APS is the leading international organization dedicated to advancing scientific psychology across disciplinary and geographic borders. More than 30,000 leading psychological scientists, academics, clinicians, researchers, educators, administrators, and students from more than 80 countries are APS.