University of Richmond is Top Producer of Fulbright U.S. Students and Scholars; One of Only 11 Institutions to be Honored for Both
February 11, 2019
The University of Richmond is included on the list of U.S. colleges and universities that produced the most Fulbright U.S. Students and Fulbright U.S. Scholars in 2018-19. UR is among only 11 institutions in the country to be honored in both categories.
Two scholars and eight students received Fulbright awards in 2018-19.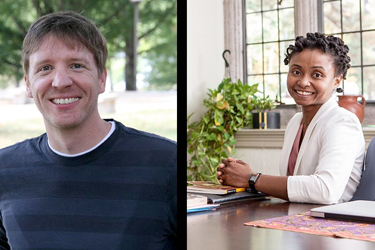 Biology professor Jory Brinkerhoff and history professor Manuella Meyer received Fulbright awards to support their research projects. Brinkerhoff, a disease ecologist who studies parasites, has been collaborating with colleagues at Nihon University in Japan to analyze Bartonella parasites found in Japanese macaques. Meyer, a historian who examines the socio-political and medical terrain of mental illness in Rio de Janeiro, has been working on her second book project. Learn more in this media release.
"Our Fulbright scholars are top researchers and educators in their fields," said UR President Ronald A. Crutcher. "These prestigious honors allow them to share their expertise with others around the world, and bring their global perspectives to campus."
UR's eight student Fulbright recipients have been completing a range of opportunities from teaching English in Germany to researching ecology in Uruguay to continuing education at the London School of Economics. Learn more in this media release.
"These opportunities fuel the intellectual and personal development of our Fulbright students," said Crutcher.
The Fulbright student competition is administered through Office of Scholars and Fellowships. The Fulbright Scholar Program is supported through Foundation, Corporate, and Government Relations.
# # #
Each year the U.S. Department of State's Bureau of Educational and Cultural Affairs announces the top producing institutions for the Fulbright Program, the U.S. government's flagship international educational exchange program. The Chronicle of Higher Education publishes the lists annually.