Three University of Richmond Students Receive Goldwater Awards
May 2, 2019
Three University of Richmond juniors have received Goldwater scholarships, the preeminent undergraduate award in science and math. Three Goldwater scholars ties UR's record for the most in a single year, previously accomplished in 2017 and 2007.
Goldwater scholars are selected on the basis of academic merit from a field of more than 1,200 students nominated by nearly 450 colleges and universities nationwide.
The recipients include: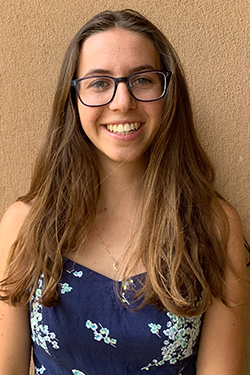 Adrian Matthews, of Arlington, Virginia, is majoring in chemistry with a minor in environmental studies. Matthews has been assisting with a research project related to chemical compounds that will contribute to the pharmaceutical industry. Her advisor is chemistry professor Miles Johnson, an alum who was a UR Goldwater Scholar in 2007.
"I have been so fortunate to conduct research with a phenomenal professor and to also be guided and pushed by many others every day," said Matthews. "I hope this award pays homage to the time and energy my mentors have given me over the last few years."
Matthews is currently studying abroad in Costa Rica where she is part of a program with a heavy focus on environmental science and field research, specifically related to the role of coffee agroforestry farms in carbon sequestration. She is the recipient of the American Chemical Society Inorganic Chemistry award.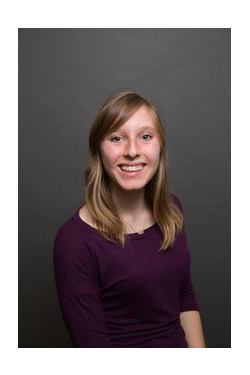 Lindsey Paul, of Leawood, Kansas, is double majoring in healthcare studies and biochemistry and molecular biology with a minor in integrated science. She has been working on a research project with chemistry professor Mike Norris focusing on finding new molecules that exhibit unique reactivity with carbon dioxide.
"I am planning on pursuing an honors thesis on the use of Ruthenium metal complexes in photoactivated chemotherapy, and I'll be interning this summer at a biopharmaceutical company in San Francisco," said Paul. "The Goldwater scholarship will assist in my academic pursuits, and I'm honored to be part of a national community of scholars."
Paul recently took office as Westhampton College Government Association president and has studied abroad in Copenhagen, Denmark, during her time at UR.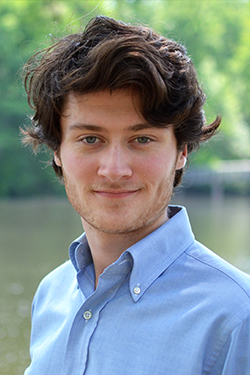 Michael Wyatt, of Milton, Massachusetts, is majoring in physics with a minor in music. Under the supervision of physics professor Jack Singal, Wyatt is working with algorithms to estimate photometric redshifts and presented his research at the 2019 American Astronomical Society meeting in Seattle in January.
"Receiving recognition for the hard work that I have put into my career as a student and researcher helps inspire me to continue doing what I love," said Wyatt. "Many thanks to all who helped me with the process of applying and special thanks to Dr. Singal for being such an amazing research advisor."
Wyatt is fluent in French and during his time at UR has studied abroad in La Rochelle, France, and at the University of Edinburgh in Scotland. He plans to pursue a Ph.D. program in physics or astrophysics.
"These three University of Richmond students have been recognized among a competitive, large, and talented candidate pool," said Dana Kuchem, director of the Office of Scholars and Fellowships. "These awards highlight the academic caliber of the students and UR's commitment to faculty-mentored undergraduate research."
Including these awards, UR has had 28 Goldwater Scholars since the program's inception in 1986.
# # #
Congress established the Barry M. Goldwater Scholarship and Excellence in Education Foundation in 1986 to foster and encourage excellence in science and mathematics. Honoring the late Arizona senator, the scholarships encourage American undergraduate students with excellent academic records and outstanding potential to pursue careers in mathematics, natural sciences, and engineering. This year, 496 scholarships were awarded. Each university may nominate up to four students annually.