UNIVERSITY OF RICHMOND — The Department of Theatre & Dance, in partnership with the School of Arts & Sciences, announces the Free Theatre & Dance 2019-2020 season. The performance series, which showcases student talent throughout the academic year, is free and open to the public, but tickets are required.
Performances include: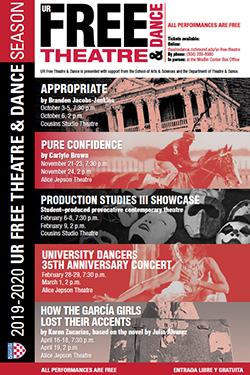 Appropriate
October 3-6, Modlin Center for the Arts, Cousins Studio Theatre
Written by playwright Branden Jacobs-Jenkins, Appropriate is the winner of the 2014-15 Obie Award for Best New American Play. Jacob-Jenkins will also speak on campus Oct. 25.
Pure Confidence
November 21-24, Modlin Center for the Arts, Cousins Studio Theatre
Written by Carlyle Brown, Pure Confidence commemorates the 400th anniversary of the arrival of the first enslaved Africans on the shores of Virginia. Brown will meet with students on campus this semester and will attend the premiere of Pure Confidence Nov. 21.
Production Studies III Showcase
February 6-9, Modlin Center for the Arts, Cousins Studio Theatre
This showcase represents the culmination of two years of students' intense theater study. Students select, produce, direct, and design a full-length play under the guidance of department faculty. The play selection will be announced at a later date.
University Dancers 35th Anniversary Concert
February 28-29, March 1, Alice Jepson Theatre
University Dancers celebrates 35 years of engaging dance with this annual concert, which features innovative choreography and live music. This year's event showcases the work of choreographers Charlotte Boye-Christensen, founder and artistic director of NOW-ID; Camille A. Brown, critically acclaimed choreographer; and Sean Aaron Carmon, dancer and choreographer currently performing in Disney's The Lion King. These artist residencies are supported in part by the Tucker-Boatwright Festival of Literature and the Arts, "Dancing Histories: This Ground."
How the García Girls Lost Their Accents
April 16-19, Modlin Center for the Arts, Alice Jepson Theatre
Based on Julia Álvarez's best-selling novel, Karen Zacarías' play follows four sisters who emigrate from the Dominican Republic to New York City in 1960 because of political strife and personal danger caused by the governmental situation in their homeland. This will be the first bilingual (Spanish/English) play ever to be staged at UR.
Visit theatredance.richmond.edu for more details on the performance series.
###