University of Richmond Law Professor Chiara Giorgetti Serving as Scholar-in-Residence at International Arbitration Institution
October 14, 2019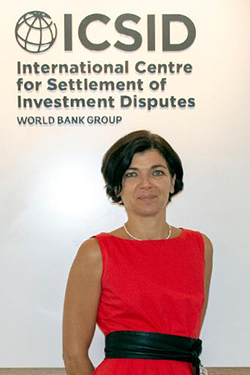 UNIVERSITY OF RICHMOND — Law professor Chiara Giorgetti is serving as scholar-in-residence at the International Centre for Settlement of Investment Disputes (ICSID) in Washington, D.C. She is only the second scholar to hold this position.
The ICSID is a global institution dedicated to international investment dispute settlement. A renowned international law scholar, Giorgetti, who is on sabbatical this semester, has published extensively on the topics of international arbitration, public international law, and international courts and tribunals.
As scholar-in-residence, Giorgetti will focus on a number of special assignments with the ICSID Secretariat, including research on a possible Code of Conduct of Arbitrators and a range of other research projects aimed at building knowledge and awareness of international investment dispute settlement.
"Given the ongoing reform process in investment arbitration, this seems to be a particularly timely and interesting moment to be at ICSID," said Giorgetti. "I look forward to engaging in its many activities, and in particular continuing to work on the development of a Code of Conduct."
Learn more about Giorgetti and her research on the UR law school's website.
###