University of Richmond Staff Support URPD During COVID Pandemic by Making Face Masks and Hand Sanitizer
April 21, 2020
Photo information
Above: Supplies at Hagemeister's home; In text top to bottom: Hagemeister wearing mask; URPD officer wearing mask.
UNIVERSITY OF RICHMOND — The University of Richmond Police Department is benefiting from the ingenuity of fellow staff members who have made face masks and hand sanitizer to keep them stocked with needed supplies during the COVID-19 pandemic.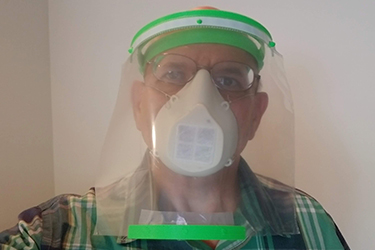 Fred Hagemeister, a research analyst in UR's Information Services department, has used his personal 3D printer to create face masks and shields with filters.
Hagemeister oversees 3D printing for academic research purposes at UR. He pursued this project personally with his own printer and supplies using templates available online.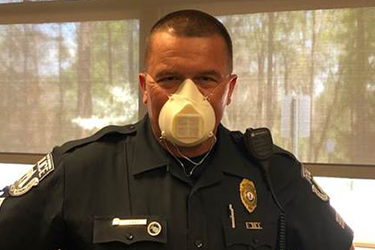 He says the masks take two hours and the shields an hour to print. He has now made more than 100 of these supplies. He donated a batch to local health care workers and then learned URPD officers and EMTs could benefit.
"I'm happy to assist those who need it most right now," said Hagemeister. "They seem to like them, saying they are comfortable."
Mike Miller, director of environmental health and safety at UR, is also assisting URPD with needed supplies. He led an effort to create hand sanitizer based on the World Health Organization formula and materials donated from the Department of Chemistry.
"We are using this first batch in a spray format for cleaning surfaces," Miller explained. "It's a great way to conserve existing resources using stock campus materials."
"I'm so grateful to my colleagues for helping keep essential workers safe with these supplies," said Dave McCoy, associate vice president for public safety and chief of police.
###