Virginia's Board of Education Elects University of Richmond SPCS Dean Jamelle S. Wilson as Vice President
July 29, 2020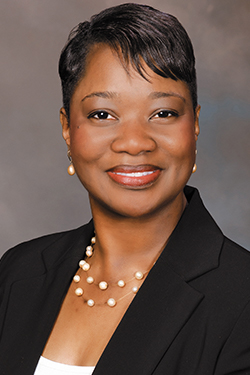 UNIVERSITY OF RICHMOND — Jamelle S. Wilson, Dean of the School of Professional & Continuing Studies at the University of Richmond has been elected to serve as the vice president of Virginia's Board of Education. 
Wilson, a well-known leader in both K-12 and higher education, was appointed to the Board of Education for a four-year term in 2017 by former Governor Terry McAuliffe. She was elected by the Board to serve as vice president this month.
"The 2020-2021 academic year marks my 30th year serving in or working on behalf of education in one capacity or another," said Wilson. "Across those years and varying roles, my energy has been focused on ensuring opportunity, access, and support for quality education for all students, regardless of background or means. I am humbled to work alongside my fellow Board of Education members in this important work on behalf of the 1.3 million school-age children in Virginia's public schools."
Prior to her appointment as SPCS Dean in 2015, Wilson served as Superintendent of Schools for Hanover County, Virginia, and was named the Region 1 Superintendent of the Year. Before being appointed as superintendent, she worked in Hanover County Public Schools as a classroom teacher, a lead teacher, an assistant principal, a principal, and an assistant superintendent.
She recently completed a six-year term on the Board of Governors of the International Baccalaureate Organization and has served on a number of community boards, including the Community Foundation for a Greater Richmond, the Association Board of Directors of the YMCA of Greater Richmond, and Communities in Schools of Richmond.
Wilson earned a Bachelor of Arts in English and a Master of Teaching from the University of Virginia, a Master of Arts in English, Writing, and Rhetoric from Virginia Commonwealth University, and a doctorate in Educational Leadership and Policy Studies, also from the University of Virginia.
###