Sustainable Living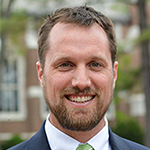 Rob Andrejewski is the director of sustainability at the University of Richmond, where he works to bring awareness to today's biggest issues and connect individuals with their unique ability to respond in a meaningful way. He provides the following tips for how to reduce waste on move-in day:
"There are many ways to reduce your waste when moving into your new college space. Consider taking a few simple steps like:
- Rather than purchasing new, consider renting. Items like refrigerators and microwaves can be rented through Dorms Direct and many textbooks are available for rent or as an e-book.
- For your dorm room, communicate with your roommate to avoid buying duplicate items. Be sure to invest in furnishings you will continue to use in the future and don't forget to visit your local thrift stores to find unique decor.

- Skip the plastic. Pack your items when reusable plastic totes or cloth bags."
Contact Cynthia Price, associate vice president for media and public relations, at cprice2@richmond.edu to connect with Rob Andrejewski.