Residence Life
Patrick Benner, director of residence life and undergraduate student housing, works to help students settle into their new home on campus. 
More about Patrick Benner

Community Involvement
Director of University of Richmond's Bonner Center for Civic Engagement Sylvia Gale helps students become agents of change in their new community.
More about Sylvia Gale

Healthy Lifestyles
Health Educator Sarah Lee Sheppard provides tips on how first-year students can establish healthy lifestyle habits as soon as they arrive on campus.
More about Sarah Lee

Academic Advising
Roger Mancastroppa, associate director of the Academic Skills Center, assists students with academic skill development. 
More about Roger Mancastroppa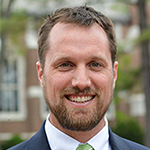 Sustainable Living
Rob Andrejewski, director of sustainability, teaches and encourages sustainable lifestyle behaviors.
More about Rob Andrejewski