Travel Safety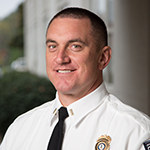 The University of Richmond Department of Campus Safety often provides motorist assistance and performs vehicle safety checks. Captain Eric Beatty can provide tips to motorists who must travel during inclement weather.
"Be prepared. First and foremost be sure to check the weather forecast as soon as possible for both your departure and destination city. If bad weather is in the forecast do all that you can to stay off the roads. During the winter months, keep cold weather gear in your car, always have at least a half a tank of fuel, and make sure your tires are properly inflated," Beatty says.
To connect with Beatty for more tips, contact Sunni Brown, director of media and public relations, at sbrown5@richmond.edu.